Cosmic Buddy pro is a premium BuddyPress theme for building social Networks. It is a child theme of  BP Mag . CB Pro showcases the power of BP mag theme Framework by building a completely new crisp design over the Framework.
Cosmic Buddy Pro is intended for sites which relays more on socializing than Blog visibility(Still you will get one of the more crisper layout for Blog).
[EJUNKIE_ADD2CART item="905738"]
[hideit]
If you are buying this theme, please note, It requires BP Mag to work. Bp Mag is available for as low as $10. Please check Bp Mag here. [/hideit]
Features:-
All the features of BP Mag
A slick navigation panel for Logged in User[please see the screenshots below]
A slick login/signup panel.
Better registration page
Better Blog Posts/Page
Better Navigation for Components [please see screenshots]
Support for all the components BP mag Supports
User Can add status as in Cosmic Buddy. yes, the status is commentable now.
On User profile, you can display the basic info on all pages.
and For more you should check the demo here
Demo: http://bpthemes.buddydev.com/bpmag/cb-pro/
Screenshots:-
Home Page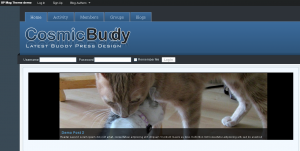 Members own profile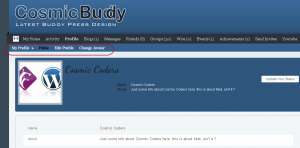 Viewing Other Users profile:-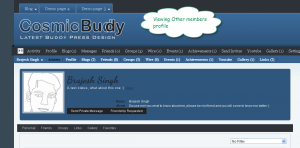 Non Logged In: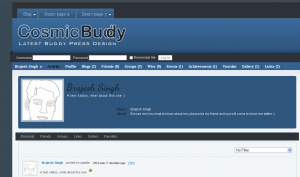 Status Update:-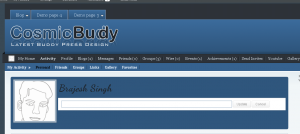 Slick Sidebar Login Box:-
More Screenshots: http://buddydev.com/themes/cosmicbuddy-pro/screenshots
Notes:-
Cosmic Buddy pro does not use the sub navigation of BP Mag. Rest all features are used from BP Mag.
Please read more documentation here:-http://buddydev.com/themes/cosmicbuddy-pro/documentation/
BP Mag Documentation here:-http://buddydev.com/themes/bp-mag/documentation/
Special Note: Please do not confuse Cosmic Buddy pro with Cosmic Buddy. Cosmic Buddy is a free theme and will remain free for ever. We will keep Cosmic Buddy updated with each version of BuddyPress.