Community Builder Advanced Settings
The advance settings panel in the Community Builder theme allows you to control some advance and miscellaneous options like:-
Enable/disable editor stylesheet
Enable text area auto to grow
Disable login page customization
Enable/Disable font loading from cdn
Enable/disable icon font loading from cdn/local and more.
This panel contains any setting which does not fit in other places.
Please visit Dashboard->Appearance->Customize  and open  "Advance Settings" to access this panel.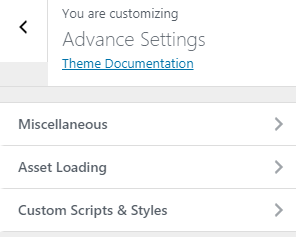 Currently, this panel consists of three sections:-
Miscellaneous
Asset Loading
Custom Scripts & Styles
Customizing Miscellaneous settings:-
This section provides the following options:-
You can enable/disable the post editor custom style using this option.

If you enable it, instead of showing scrollbars, the text area height will be adjusted to the content. In other words, text area height will grow with the content.

You can use it to disable login page customization added by the theme.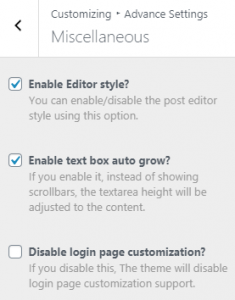 Asset Loading Options:-
This section provides you following options.
ontAwesome icon font. If a plugin is already loading font awesome, you should disable it to avoid double loading.

It allows you to toggle the loading of font-awesome from bootstrap cdn. If you disable it, the font will be loaded from the local copy.

If you disable this, Google Fonts will not be loaded. We recommend keeping it enabled.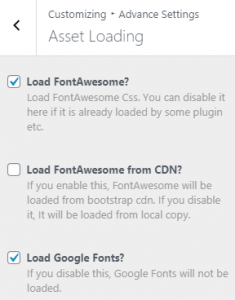 Custom Scripts & Styles:-
This section allows you to add custom scripts (JavaScript code) in the site header or footer. You can use it to add analytics code etc.