MediaPress provides an easy to use logging API to allow plugin developers log and manipulate various MediaPress actions/events.
Table Schema:-
The table schema for the logging table is as shown below.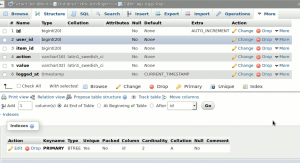 The table is named as 'yourprefix_mpp_logs' where yourprefix is the database prefix you are using. You can access the table name programatically using the following table
//it is like dbprefix_mpp_logs where dbprefix is your database prefix

$log_table

=

mediapress

(

)

-

>

get_table_name

(

'logs'

)

;
PS: There is no database model class associated with this table. We have done it on purpose.
API Functions: –