BuddyPress User Profile Visibility Manager is a plugin that allows you to give control to your users to manage their account privacy.
The BuddyPress  User Profile Visibility Manages gives following controls to the users.
Features:-
A user can show/hide his profile in Members Directory
A user can hide/show his profile in directory searches
A user can hide/show his last active time
A user can make set his/her account to following status:-

Everyone: Everyone can see his/her profile
Logged In Users Only: Only logged in users can see his/her profile
Friends Only: Only his/her friends can see/access his account
My Group Members: Only members of the groups of which the user is member can see the profile.
Only Me: That's private. Only the user and the super administrator can access his/her profile

A user can allow/block  friendship requests
Depending on the settings, the user will not be visible anywhere( if they choose so), even will be hidden from widgets etc.
Admins can set the plugin to be admin only( Only admin can change/update or set default settings in that mode).
Simple hooks to customize the available privacy levels.
New: restrict access to members directory. You can select All, Logged In or Site admin only.
So, that is a mix of privacy + visibility or you can say, it allows your users to have preferences over what they want.
Here is the Profile Visibility Settings:-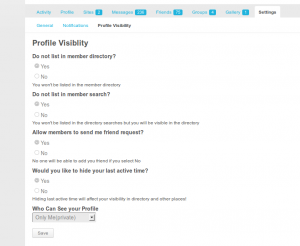 For Version 1.2+, Profile Visibility manages allow you to set default privacy from admin options as shown below:-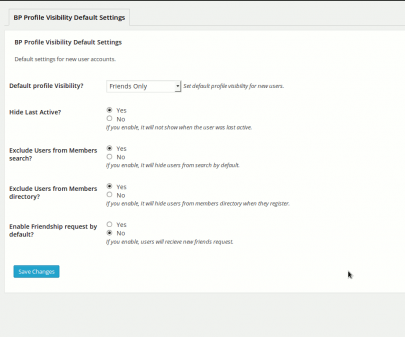 Addons:-