BuddyPress Rate Limit User Activity plugin allows BuddyPress site  administrators to throttle the user activities on a BuddyPress based site. It will be a great help for all of you fighting with BuddyPress activity spams. Is your site suffering from spammers sending hundreds of  activity updates/mentions and disturbing your otherwise good community.
Well, this plugin will solve your problems and let you enjoy your good time.
By using BuddyPress Rate Limit User Activity, you can limit the number of activity updates, comments a user can do, during a particular time interval.
You can limit user updates by:-
 Number of Activities performed during an interval(Includes all type of activities, You will set the time limit in admin)
Or Number of updates a user can post in a particular interval
Or Number of activity comments
That's Pretty Simple.
Screenshots:-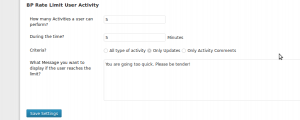 Here is what happens when user crosses the limit for activity updates

And here is an example for Activity Comment