BuddyPress Message Privacy plugin helps control message spam on BuddyPress based site.
Ever wished to give your users the control of private messages. Have you wondered how facebook and other social networks allow users to have fine grain control over who can send the message? Want to give your Users full control over their private message.
If your answer is yes, BuddyPress Message privacy plugin will give your users complete control over who can send a private message to them.
Features:-
Each user can control Who can Message Him/her
A User can opt for receiving message from everyone, friends only or specify a custom list of users from whom he want to receive messages
Users can create custom list for other users who can send him/her message
Users can create custom blacklist of users who will never be able to send him/her the message
Stops replies from the blocked users too
Super Admin can always send message to anyone
Screenshots:-
Users Privacy settings Screen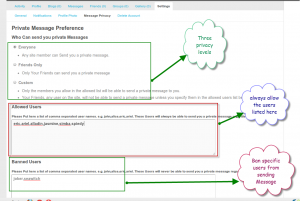 Privacy In action:-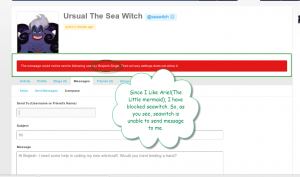 As you can see from the first screenshot, The user can opt for one of the three privacy level. In addition to that, A user can create a list of white listed users/blacklisted users. The allowed users will always be able to send him/her a message regardless the settings.
Same goes for the banned Users. Regardless of the privacy level, if a user is listed in the banned list, they won't be able to message him/her.