The WordPress Restrict Email domains plugin allows you to limit/restrict user registration on your WordPress/ BuddyPress site by email domains. You can limit the registration by specific emails or domains or just the domain extensions(like .edu/.com)
This plugin is best suited for intranets, educational institutes or the cases when you do not want to allow registration from everyone but a subset of users based on their email address. If you want to limit registrations on your WordPress, BuddyPress, WooCommerce website to the emails belonging to only specified domains, this plugin is for you. It goes one step further and allows you to allow users by emails, or domains or even the domain extensions. So, if you are building an educational website and only want to allow the users from .edu domain, just put .edu in the settings. Same goes with the domain. If you are building a corporate network and only want to allow users from your own network, put your domain name in the settings.
It's easy and efficient. The use of regular expression gives it  a lot of flexibility. This plugin helps fight spam too.
Features:-
Your can limit user registration by email domains for

WordPress
WordPress Multisite
BuddyPress
BuddyBoss Platform
WooCommerce
Paid Memberships Pro
WP Members
UsersWP
Ultimate Member

Allows you to limit new user registrations by

Domain names(e.g example.com)
Extensions (e.g. .edu, will only allow emails having .edu domain)
Email addresses (e.g admin@you-website.com, friends@some-other-website.com)

You can configure the rules to allow users in the plugin admin panel(domain/email/extensions)
It is very efficient
Screenshots
with BuddyPress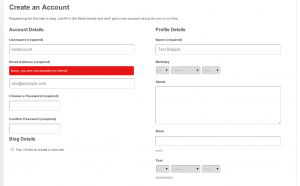 With WordPress Multisite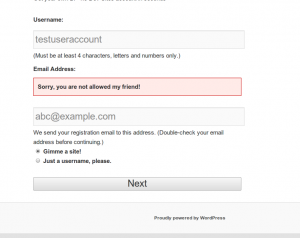 With WordPress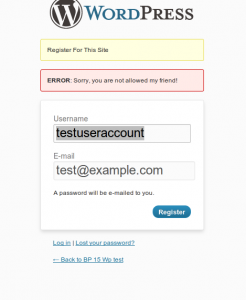 With WooCommerce:-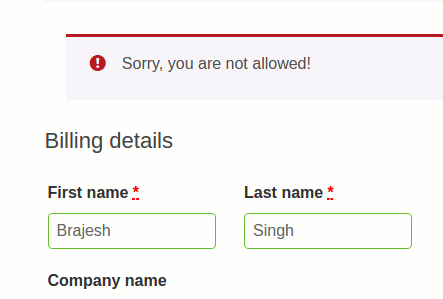 With version 1.0.9+, It restricts the registration of customer for WooCommerec too. Only customers with allowed email domains can register with WooCommerce.
Admin Options:-
Allows you to update the list of allowed domains and the erro message as shown below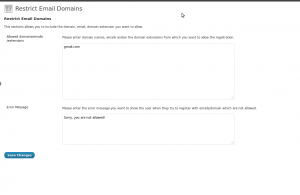 How to Use:-
After activating the plugin, you can access plugin settings from Dashboard->Settings->Restrict Email Domains.
When entering the domains list, please do not use comma. Put one entry per line. Also, please only use lowercase letters.
Here is a screenshot:-