BP Mag classic is a Premium Theme for BuddyPress based sites. It is built over the solid framework of BP Mag. So, by default, it inherits all the benefits of BP Mag Framework.
Bp Mag Classic theme brings back the vertical navigation for BuddyPress component(Example profile/groups/achievements/events/Links etc)
Demo: BP Mag Classic Profile page
Basic features:-
You get 6 layout options

Fixed width layout
Fluid width layout
Content/Sidebar orientation
Sidebar Content Orientation
No Sidebar(single column option)
Combine the last 3 options with the first 2 and you get at least 6 combination. Please check this page for more details on the layout.

Vertical Navigation on all the BuddyPress Components

Vertical User Navigation
Vertical Group Navigation
Vertical Event Navigation(If you are using EventPress or Jet event system for BuddyPress)
Vertical BP Links navigation
Vertical Achievements Navigation
and the list continues for all the supported components

Flexible Admin Option

Up to 2 top multilevel drop down menus(You can show/hide both)
You can opt for WordPress 3.x custom menu or Build the menu from Categories/pages or use BuddyPress default navigation
logo upload from backend
color/background change from backend
Customizing footer from backend.
and a few more options

All BP Mag Features
and finally some funky css3 effects which will get better with each release
There is basically one difference between bp-mag and Bp mag classic, The BP mag classic has a vertical navigation while BP Mag has the horizontal navigation.
Demo: http://bpthemes.buddydev.com/bpmag/classic/members/sbrajesh/
Now let us see some screenshots in action:-
Profile page:-
Fixed width 2 column(Content/Sidebar layout):-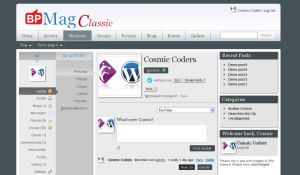 Fixed Width 2 Column Sidebar/Content layout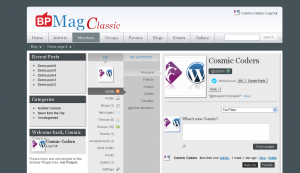 Fluid Width Content/Sidebar Layout:-

The same applies to other components as well. Let us see a couple of examples:-
Group Page:-
Content/Sidebar Layout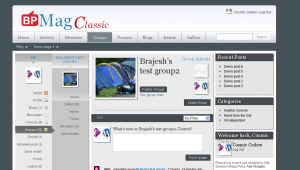 Sidebar/Content layout:-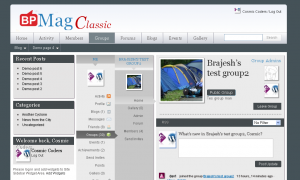 In case you are using Paul's Achievements–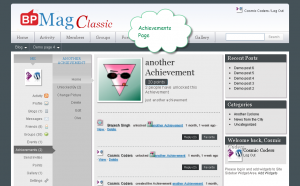 And for jet Events Users:-
There are many other component Like BuddyPress links etc supported by Bp Mag. Please check all the supported major BuddyPress components which require theming here. Those all will have vertical navigation with Bp mag classic.
Hope you will like.