Cosmic Buddy is an Orkut Inspired social networking Theme for BuddyPress based social Network.
Features
Highly customized theme
It is not dependent on any theme
Easy to use
Features Added/Enhanced in version 1.1 rc2
Global Unified search support
Enhanced Login form using the jquery tools overlay
Post thumbnail support
Better Comments
Support for BP-Gallery
Support for Bp Flickr Plugin
Support for Branded Login Plugin
Support for Username availability check plugin
Plugin template for Group
Some enhancement in formatting of text
Single wp support
Fixed registration page bug(which showed blog details form even if blog creation was disabled)
Fixed top menu, Register Link will not show if registration is disabled
Fixed time display of forum topic
Page template for Blogs
Fixed Left menu issue for blog create page
Random members error on profile fixed
And around 20 other small fixes/enhancements
Screenshots:-
Have a look at the screen shots here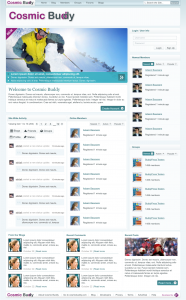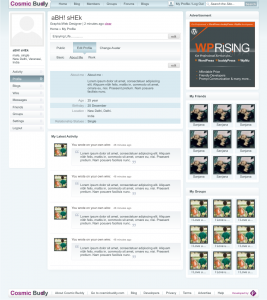 So don't wait , grab this theme from the download link in the sidebar of this page And turn your buddypress site to an elegant social network.
How to Use
Cosmic Buddy Theme has 7 widget areas.  Please have a look at the image below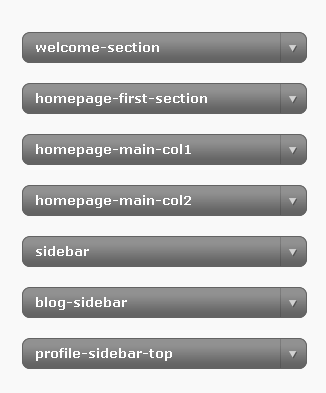 Welcome Section: This is for the home page. Use this section only if you want to show a welcome message or the Slideshow. If you don't want to show a welcome message/ or slideshow, please do not add any widget to this area.
Home page First section: if you want the left column of the home page to be a single column(not the double column in the left column),  add widgets here.here is a screenshot, to show what I mean.
Home Page main col1 and home Page main col2, If you want to use the home page left column as 2 column, use these two widgets. Please note, if you use any of these two widget area, the widgets added to the "Home page First section" will be ignored.  I am using is_active_sidebar methods to test and mutually exclude the widgets. Here is a screenshot.
Sidebar: This area is used for home page sidebar, registration page sidebar, activation page sidebar. So add what ever widgets you want here.
Blog Sidebar: It is used for all blog pages(e.g blog home page, single page, page, archive, links, search etc)
Profile Sidebar top: this area is the right column top area on Internal profile pages. You can use this to display ads. If you don't add any widget here, this area will be ignored and rest of the right column will be displayed. Here is a screenshot
Cosmic buddy Theme extra addons
Cosmic Buddy slideshow widget:- We developed this slideshow to make it easy for you to use slideshows with cosmic buddy theme. This widget uses featured content glider from dynamic drive to create the slideshow. Here is a screenshotYou can specify posts from which category/categories(a comma separated list of category ids) should be used as slideshow. The image comes from a custom field "slide-image" currently. So, Please enter the image url in the posts in a custom field "slide-image". We will change this behaviour and make it easy in the next release. Also, we recommend to not enter the title for the slideshow in the above widget.
Cosmic Buddy Welcome Widget: This is a slightly modified core welcome widget. It just outputs the widget title only once, while the core widget outputs it twice
Cosmic buddy search widget: Since we don't have a sitewide search integrated in the theme, so this addon, enables you to use sitewide search on any/all widget areas.here is a screenshot.
Cosmic buddy Login widget: This simply puts a login form as a widget when the user is not logged in, when the user is logged in, this widget does not outputs anything.
What Widget Configuration we recommend
Again, It is all your choices , but we strongly recommend to use "welcome-section" only for welcome text/or slideshow.Please do not use welcome section for other widgets.
You should add the login widget to "sidebar", blog-sidebar","profile-sidebar-top".
Search widget is all your choice, but you can add it to sidebar/ blog-sidebar and profile-sidebartop if interested.
Now you either use "Home page first section" or  a combination of " Homepage Main col1"  and "Home page main col2".
Changing Logos
You can change all the three cosmic buddy logo  from theme options in the wordpress backend. Go to Appearance->Theme Options and put the logo image urls there.
here is a screen shot to show theme options.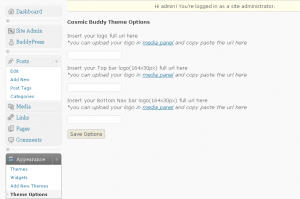 Addons Download:-
will be updating soon…