I am glad to introduce today, our all new, the Buddypress Profile Widget for Blog Plugins.
The credit goes to Mercime and Bowe for the props

What It does
It allows Blog admins to show their buddypress profile on their blogs using this widget. To be more precise I have named it "Bp profile Widget for blogs".
How to Use It
Requirements:
Buddypress Must be activated sitewide on the wpmu installation to use this feature.
Download it from here http://wordpress.org/extend/plugins/bp-profile-widget-for-blogs/
Installation
1. Unzip the archive file "bp-profile-widget-for-blogs.zip";
2. Upload the folder "bp-profile-widget-for-blogs" to wp-content/plugins
3. Login as Site Admin, Go to dashboard->Plugins->Installed Plugins
Click on the "Activate sitewide" for "Bp profile Widget Plugin".
Alternatively,  you may use the wordpress plugin Installer and Install it.
4. Now go to appearance->Widgets and Add the widget "Bp Profile for Blogs"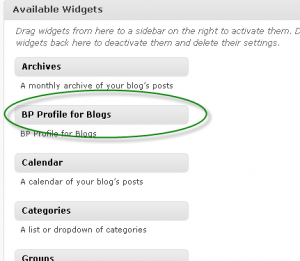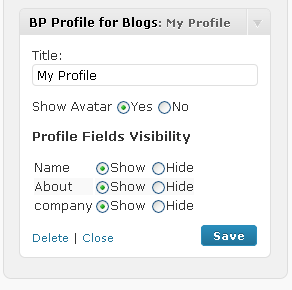 here is How it looks on the blog
Direct Download Link: http://downloads.wordpress.org/plugin/bp-profile-widget-for-blogs.1.2.zip
It will automatically list all the xprofile fields and a User can either Hide fields or Show. So the power is in your hands

If you don't mind and think this is useful, please do rate on WordPress.org repository.
Let me know your suggestions/comments for improvement

Thanks
Brajesh
Have you checked our all new buddydev premium, It gives you access to all our premium plugins/themes and support forum for as low as $30, check out buddydev premium to find more.
Related posts: