I promised in the beginning of Buddydev for this plugin, so I got some time yesterday and made it work.
Buddypress recent Profile Visitors Plugin shows the most recent profile visitors on a user profile. The profile visiting recording can be turned on/turned off by a user.
here is a screenshot to show how it looks.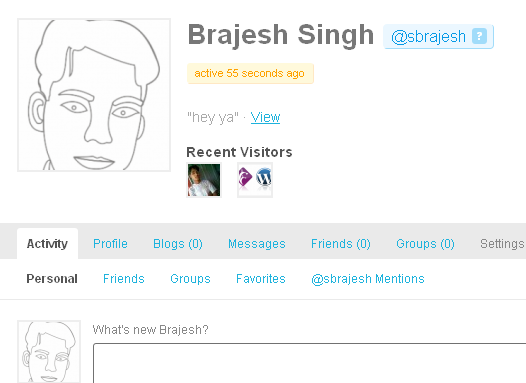 If you don't want to show your visits to other user's profile, You can disable from the settings->Recent Visitors options as shown below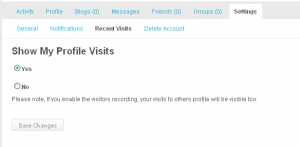 Please note, if you turn off the profile visits, It will not show you who visited your profile. I just wanted to make it fair enough, so it is mutual, if you want to see who visited your profile, keep the settings on. Once you turn the settings off, It will not record any data for you.
The settings are user specific.
How to Install
1. Download the plugin from here http://buddydev.com/plugins/recent-visitors-for-buddypress-profile/
2. Unzip recent-visitor-for-bp.zip
3. Upload recent-visitor-for-bp folder to wp-content/plugins
4. Go to Wp Admin->Plugins->Installed and activate "Bp Recent Profile Visitors"
5. Let the plugin do its magic.
Alternatively, you can use wp-admin->Plugins->Add New, click on the upload tab and browse this zip file, upload and click activate, you are done.
How to Use
If you are using Buddypress 1.2 default theme or the Buddypress child theme for bp-default, The recent visitors are automatically displayed at the profile using the action hook "bp_after_member_header", otherwise, you can always call


visitors_show_my_recent_visitor();


It will list the most recent 5 visitors
Code snippets:-
Some example codes


$total_unique_visitors=visitors_get_unique_visitors_count($user_id);//if you  do not  provide user id, it will show that for displayed user

$total_profile_visit=visitors_get_profile_visit_count($user_id);//this returns total profile visits, which includes multiple visits by same user

/** Get the $n most recent visitor of $user_id**/

$users=visitors_get_recent_visitors($user_id=null,$count=5);//return array of users, manipulate them


Hope you will like it

Looking forward to hear more for the enhancement.
NOTE: This is a premium plugin and only available to buddydev premium members.
Please join buddydev premium to access this plugin(with many other plugins too), It gives you access to all our premium plugins/themes and support forum for as low as $30, check out buddydev premium to find more.
Related posts: