Hi All,
After a long silence, I am back again, with another free plugin for BuddyPress. Blog Categories for Groups plugin allows you to associate one or more categories to a group and It will fetch and list all posts in those categories to group blog screen. The Idea for this plugin was conceived by Chris, and I just managed to put it as a plugin.
What It is:-
Have you seen Buddypress group blog plugin, if yes, then you should know about this plugin too. It does almost all the same thing as the group blog plugin does but It does not require  additional blog for each group. You can associate one or more categories to a group and the plugin will create a virtual group blog.
Features at A glance:-
Associate One or more categories with a Group
Will work with WordPress Single User and WordPress Multisite Both
Simple post from front end using Modified One quick Post plugin by Gordie
Group blog home page, group blog categories archive, single posts screen
It's simple lightweight and provides you the flexibility to use Group blog with single user as well as multiuser version of WordPress.
Screenshots:-
Here is a screen shot of Group Blog Home Page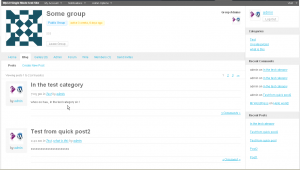 Here is a Single post view(yes, comments can be left on the same page)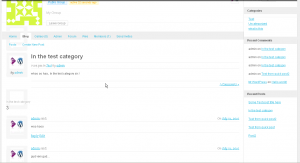 Creating post from front end(One quick Post plugin .26 or above required)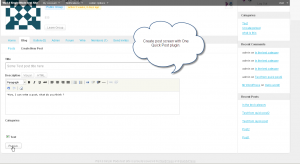 Here is the Group create step:-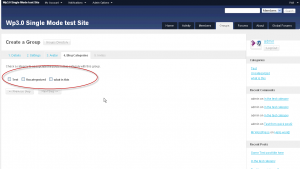 here is the Group  Admin Page:-
What can be done in future:-
Tags support
Better Moderation/front end posts
Your suggestions…..
Download:-
https://buddydev.com/plugins/blog-categories-for-groups/
version 1.0.2 fixes the issue with all blog posts showing in the group blog.
Older version:-
https://buddydev.com/http//buddydev.com/public-download/blog-categories-for-groups.zip.
If you don't have one quick post, download the modified One Quick Post plugin from here. It is a simple 3 lines changes, I am going to send it to
G.Breant and will update here if he accepts it.
There were many issues with One Quick post plugin and you can see it in the comments, so I created BP Simple Front End Post plugin to specifically use with this plugin. Please install BP Simple Front End Post plugin if you are using version 1.0.4 or above.
Installation:-
Unzip blog-categories-for-groups.zip
Upload "blog-categories-for-group" to wp-content/plugins
Activate "Blog Categories for Groups" plugin
Move "bcg" directory from blog-categories-for-groups to your theme
Install One quick post if you want the front end post functionality.
That's it. Simple and easy. Looking forward to hear your feedback, suggestions and improvements.
A note for visitors/members of BuddyDev:- Recently, I have been changing locations, so was not able to reply to your comments/queries in the last couple of days(3-4 days), I am sorry for the inconvenience. Just getting a little organized and back to help you as always. Thank you all, for all your support.