Hi All,
How was your Halloweens day, hope you enjoyed it. Well, here I am back with the bp-chat beta 2 and look forward to your feedbacks on it now 🙂
Bp chat is a facebook style chat plugin for BuddyPress based social network. It is currently in beta and I thought the best way to get it better is to get the feedback from the community,  so here we go.
In this release, we are covering the basic features.
Here is a list of  features for bp-chat, the uncompleted one are marked with star.
Features
Ajaxified chat
No need to refresh page
Chat state is saved even if you surf multiple pages on the site, the state of chat will be saved
Sound notification of new messages [coming next]*
Multiple chat window
Automatic detection of a user being inactive[not completely implemented]*
Compatible with IE7+, Firefox 2.x, firefox 3.x , safari, chrome, opera
Chat Messages archive( Currently it stores message, but in future, It can be viewed, enabled/disabled)
Friends only chat/sitewide chat preference
and that's beginning.. In future we will have many feature
So what do you think.
Here are some of the screenshots to show it working.
Screenshots:-
Online Users List:-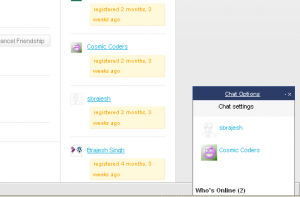 Chat Preference(Sitewide/friends only)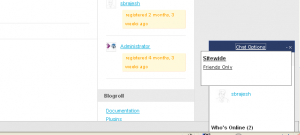 Friends Only Preference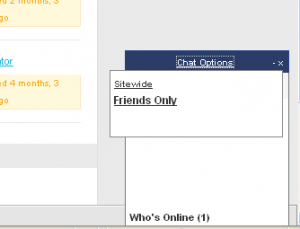 Chatting window:-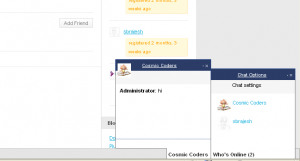 And here is a video to show the chatting working(please don't mind the quality, I am not very adept at it)
It is a free plugin.  So please feel free to download it and help me in making it better. It should be stable by end of november. I will be updating it again after releasing gallery.
Download Link: https://buddydev.com/plugins/bp-chat
Installation: https://buddydev.com/plugins/bp-chat/installation
Note:  For all of you waiting for gallery, I am a little bit out of schedule again, and will be putting gallery on 4th now. Please allow me a little more time. I am sure, once gallery is out, you won't have any complaints.
And yes, once gallery is out, we will have many posts on BuddyPress and WordPress here. So, please keep visiting the site and do not forget to let me know your thoughts in the comments below.