A couple of days ago @cthawards asked me about this. He wanted to make sure that the user does not click the cancel friendship/leave group by mistake and does not notice that they left the group/cancelled friendship.
I simply filtered on the buttons and put some code together to make sure that the users know what they are doing.
Though I wanted to post the code here, It seemed better to put it as a plugin and let theme authors/Site admins decide if they want it in the theme or as an addon(If you are a theme author, you can include the code from the plugin in your functions.php, If you are a site admin, just activate the plugin).
The BP Confirm Actions plugin does  following:-
Ask for confirmation when cancel friendship is clicked
Asks for confirmation when leave group is clicked
Asks for confirmation when unfollow button is clicked(I have tested it with this plugin http://wordpress.org/extend/plugins/buddypress-follow-me/) as asked by @udesi
Screenshots:-
Here is a screenshot:-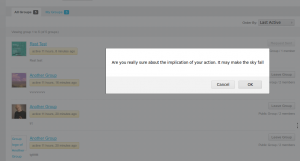 Ok, that message was too loud. I mean sky does not fall if you leave membership of a group. So, I amended it further and here is the message that the plugin asks.
It is a very simple plugin and does not need more explanation.
Download & Installation:-
https://buddydev.com/plugins/bp-confirm-actions/
If you want support for other plugins too, please do let me know.
Hope it helps to make sure network a little more better 🙂