Hi All, I know you have been waiting for this gallery for a long, and my bad I missed the deadlines horribly.
This post is to keep you all updated with the progress. Here are the screenshots from my current test setup(where I am using bp default template of bp 1.1.3).
Well, let us start with the things.
I will post here with an example of image gallery creation. Please remember, I am not done with the User interface yet, it is the only thing, blocking the gallery from public release and I am working hard on it. You will notice a few glitches in the UI here.
So Let us starts, I am logged as admin and when I go to my profile, I see the gallery link in my userbar menu. When you click on that gallery menu, It will bring the following screen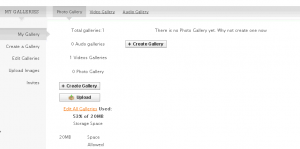 Because I don't have a Photo gallery so It says, There is not photo gallery and I click on create gallery button. It will bring a gallery creating screen using ajax as shown below.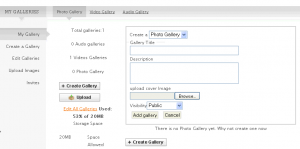 You get here options to create a photo gallery/video gallery/audio gallery as shown below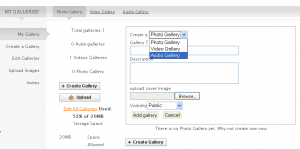 and you can set the status of gallery as Public, private,friends only(the privacy option and the galley type option will depend on the current Owner object(in current case, It is user, gallery can be associated with event/group too)).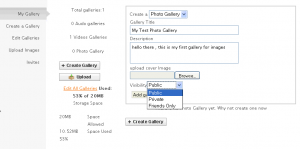 You can create as many gallery as your admin allows/space allows(I will show it later).
Now we go to the single gallery(though you can upload media from gallery home, I prefer the other way).
here is what you get.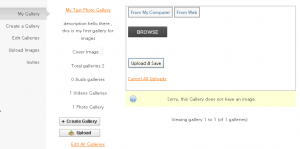 And you can upload as many medias as you want here.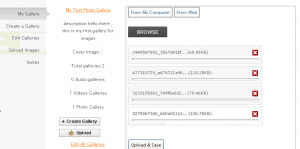 Once you are done with the upload, the media(I refer media as media can be image,videos/audios/other docs) will appear in the gallery you uploaded.
each gallery has its own pretty permalink like example.com/members/admin/gallery/my-galleries/test-image-gallery
Here is what you get once the media is uploaded to your newly created gallery.


If the gallery/media is public, It is recorded in your activity stream/sitewide activity stream.


And here is sitewide activity stream


When a user is logged in and is at his/her Gallery's home page, they can see the allocated space and used space as below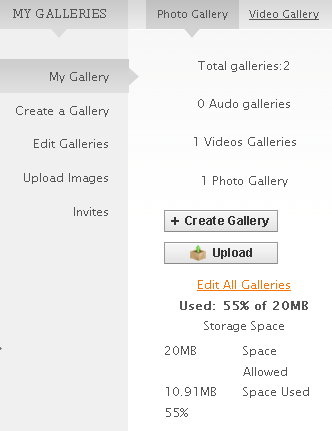 There are many more things, like the media wire posts to show here, but I think, I have posted enough image to make this post lengthy, so no more images for now.
Current Status
As you have already seen,
Gallery is being created, media can be added to any gallery. You can bulk upload media. If you are bulk uploading images, image title is generated from exif or iptc meta as available for the image(if none then from the image file name).
Media can be uploaded from local computer or can be from web and all others what ever I had mentioned in my previous post.
Why delayed :-
I am stuck with the user interface. I know It is important to release it asap but a better user interface from usability point of view will matter a lot and the current interface needs improvement.
So when expected :-
I am doing my best to put it online as soon as I can (man, you remember 2 days ago, I had a 24 hour work day only because of this gallery and then and went to sleep for another 24 hour 😀 ).
It can be anytime today/tomorrow/day after tomorrow, let me get a little bit satisfied with the interface.
NOTE:  For anyone, who want to join BuddyDev premium for accessing  gallery, my sincere request, please wait, let this gallery come out and be released to public, then join, please do not join for the gallery before it is available on this site.
update Gallery is available as beta. checkout here https://buddydev.com/buddypress/bp-gallery-beta-available-now-download-test-and-enjoy/
For all existing members, you will will get 15 days added to your existing subscription as a small compensation for the delayed gallery(I know, the time can not be compensated but I am trying to do which is under my control).
If you have any questions, please let me know in comments, I am here to help.
Thanks
Brajesh