I am glad to announce the release of  BP Nicey, a blue shade adaption of the default BuddyPress theme. It is a child theme which depends on BuddyPress theme bp-sn-parent( bp-default).
Features:-
Easily Customizable
Clean and Elegant
Child theme
Custom header and footer
What is more, we are actively developing it, So if you have any suggestions/improvements, point us and we will be glad to incorporate.
Why This theme:
Because we love BuddyPress and there is a lack of theme for BuddyPress. We are trying to fill that gap. Keep yourself tuned for more to follow soon.
Yes, our next free theme cosmic buddy will be available this week. I will be writing about it in my next follow up post 🙂
Screen shots: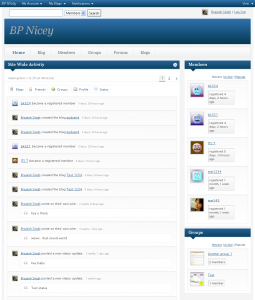 Download Link:
https://buddydev.com/themes/bp-nicey/
Installation
1. Unzip bp-nicey.zip
2. Upload bp-nicey to your wp-content/themes
3. Go to SiteAdmin->Themes and Enable this theme or Go to SiteAdmin->Blogs, click edit and enable this theme for the blog on which BuddyPress is active.
4. Go to Themes->appearance and activate this theme.
5. Appearance->widgets and add/remove widgets. That's all. You are done.
Please help us to improve it more. Leave a comment with suggestions here or if you are a premium member, please post in the forum.
I will like to hear from you, what features you want in your BuddyPress theme. Do not hesitate to tell us. We are here to help you 🙂