Today, I am really happy to put the update for BuddyBlog plugin. First of all, I will like to thank you all for the tremendous response to BuddyBlog plugin. This update fixes a ton of issues and adds a few features.
Updates:-
Fixes delete post issue from front end
Fixes Pagination issue on profile page
Fixes Page title for BuddyBlog Pages(Single/Archive pages)
Adds post count in the profile menu
Adds a trick to open edit page if you click on the title of a post which is not yet published
Now, my-posts slug name can be changed via custom slug
Adds Custom permalink support to single post view on profile ( You can enable post slug instead of post id on single post page)
And some more cleanup here and there.
If you are just starting with BuddyBlog, please read my release post here.
Screenshots:-
Custom permalinks using slug:-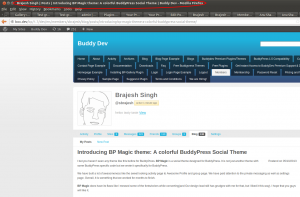 Posts count in the nav:-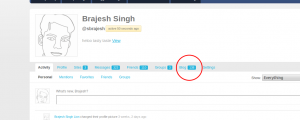 Paginated view url:-

Page titles:-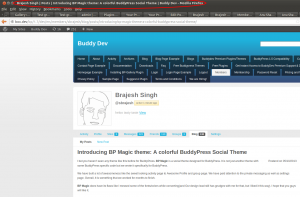 Customizing Permalinks & Slugs:-
By default, the plugin keeps the old permalink structure(e.g http://example.com/members/username/buddyblog/my-posts/post_id), If you want to change that to something like this http://example.com/members/com/blog/posts/some-nice-looking-post-name, you can do that.
Using the slugs in permalink:-
Please put the following line in your bp-custim.php
add_filter

(

'buddyblog_use_slug_in_permalink'

,

'__return_true'

)

;
To change the main slug from buddyblog to say just blog, you can define as below
define

(

'BP_BUDDYBLOG_SLUG'

,

'blog'

)

;
To change the sub action slug 'my-posts' to say 'posts' you can use following:-,
define

(

'BUDDYBLOG_ARCHIVE_SLUG'

,

'posts'

)

;
Download & Installation:-
https://buddydev.com/plugins/buddyblog/
Please do share your feedback and further suggestions in the comments below.