The new major release of BuddyPress, which is codenamed "Lombardi" is out today.  It has been over an year since there were any major release and the new release is worth the wait.
The new release contains a lot of improvements and fixes. The main features at a glance will be:-
Main features:-
BuddyPress components are associated to pages, giving you the flexibility to choose your own url.
Basic Oembed support inbuilt
Streamlined API for developers(cool!)
Updated and Improved Bp default theme(with responsive layout, means It will support the various mobile devices)
Awesome Installation/upgrade wizard
and many more.
Let us look at the list of major changes.
Customizable URL:-
The earlier version of BuddyPress supported customizing slugs. You could use one of those BP_COMPONENT_SLUG to customize it. In BuddyPress 1.5, It is no more required(and mostly deprecated). You can change the urls to anything and any level deep from the WordPress Dashboard->Edit Page as shown below. So, Creating the social network as a sub section of wordpress has been made too easy.
Here is the Pages screen of my Fresh Install.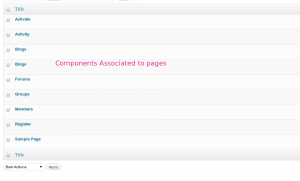 And you can change slug from the page edit screen

Or even Organize the Components in Hierarchical url like yoursite.com/social/members or so using the page attirbute.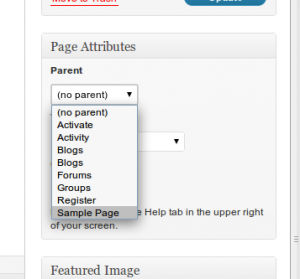 So, what does it means to you ? It is one of the many changes which gives you a lot of flexibility. The only issue you will find is you will need to create a page and associate when using a custom component utilizing root page.
Oembed Support:
The credit goes to @r-a-y for getting this functionality in BP 1.5. yes, now you can post the media from any of the Oembed supported sites. Here is an example
Registration Page:-
No avatar Upload on The registration page. It is a welcome change as it has been causing a lot of troubles earlier.
Bp Default Theme:-
Responsive layout for mobile devices
Multiple widgetized sidebar( 1 sidebar and 4 in footer)
WordPress custom menu support
cooler activity stream
custom background
Installation/Upgrade Wizard:-
I best most of you have already seen it. Still here is a screenshot. Now you will have a nicelooking wizard to guide you step by step when you activate BuddyPress.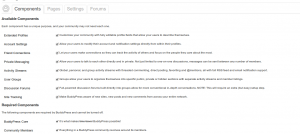 For Developers:-
If you are a developer, Bp 1.5 brings a lot of things for you. Specially look at the BP_Core_Component class which does all the  needed for your plugins. It has never been so easy to write new plugins.
You can look at the complete list of changes here
http://codex.buddypress.org/releases/version-1-5/
What It means for Us at BuddyDev.
Since BuddyPress 1.5 is stable now, we feel it the right time to put new plugins. We will have many releases in the coming days. As of the older plugins, all of our plugins (except global forum and BP Chat) has been tested and is  compatible with BuddyPress 1.5. I will be updating the individual plugin pages with the new versions today. In the mean time you can download  the plugins which required update for Bp 1.5 from here.
We will be relasing an update of our themes(BP Nicey today, BP Mag/CB pro and Cosmic Buddy by the weekend).
Happy social networking and do not forget to thank the core team of BuddyPress here 🙂