As the BuddyPress release cycle for 2.0 is about to complete, BuddyPress Development team has released 2.0 beta yesterday. There are many exciting things about BuddyPress 2.0 and this post takes a look from the site admin's as well as developers point of view on these changes.
From a site admins point of view, this release makes your life easy. You can manage signups(activation), repair the various out of sync stats. Also, the performance improvements are humongous.
As a site admin, you will notice following things:-
 New Manage signup screen under Users Menu
There is a new manage signup screen where you can activate/resend emails to the users as shown in the image below.

Mark spam feature for standard WordPress:-
If you have used WordPress multisite, you are already aware of it. Mark spam was not available on standard WordPress earlier. BuddyPress 2.0 adds it to standard wordpress site too as shown below
 User's Extended profile View/editing from Admin:-
This is one positive step. Now, with BuddyPress 2.0, you can view/edit the social profile( or extended profile) of the user from dashboard. Here is a screenshot.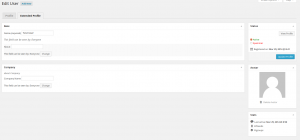 This allows you to edit the profile information, change avatar and see stats about the user's activity.
BuddyPress Tools section:-
There is a new BuddyPress tools screen which you can access from Dashboard->Tools menu. Currently, It allows you to synchronize the friends count, groups count, total members count and move the old last_activity data to the newly implemented and more efficient storage for last activity( Earlier, It was stored in user meta table, Now it is stored in the activity table).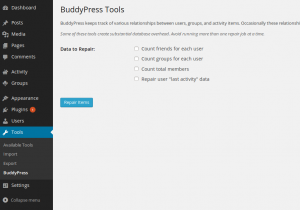 Ajaxed Activity  Refresh:-
BuddyPress 2.0 introduces ajaxed refresh of activity. When a new activity is available, It allows the users to reload that activity. BuddyPress is using WordPress heartbeat api to accomplish it.
Now, this is something that many webmasters will love and many will hate. Specially, I don't recommend to enable this feature if you are on shared hosting. It is a very good feature but on hosts with low resources, can cause a lot of issues. You can enable/disable it from Settings->BuddyPress->settings screen as shown below.
Blog related activity comment synchronization:-
And the last one for site admins, I believe this is an important ticket. Now, the comments in activity on any blog related activity item will synchronize back to the actual blog Item/post.
For Developers:-
There are many new changes for developers as well. I will just list them here with specific resources:-
Overall, It is an important update for the BuddyPress community and will make the things more streamlined.
Did I miss something in this post? Please do let me know in comments what do you think about the upcoming release of BuddyPress?