Thank you all for your positive feedback on this plugin and liking it. I had written it initially on the request of one of our member Emanuel and from the download logs I see it generated enough interest :). The initial plugin had some bug and that's why this post is here.
BuddyPress Activity Comment Notifier plugin emulates the facebook style notification for the comments made on user updates. It will show the notification to a user in following scenario.
When a user has an update and someone else comments on it(it could be any activity stream item)
When a user comments on someone's update and other users also comment on that update, all the users are notified
Well, these two features were present from the very beginning. The current updated fixes a couple of Issues:-
Remove notification for users if the activity item is deleted. thanks to @kat_uk for pointing to the issue
Fix notification for Single Blog post view
Fix conflict with BuddyPress 1.3 trunk(yes, It will work with 1.3 trunk now).
Screnshot:-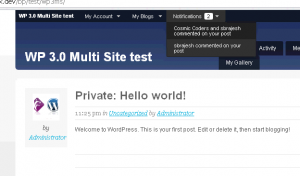 Download & Installation:-
https://buddydev.com/plugins/buddypress-activity-comment-notifier/
Note:- It will not clear the notification for forum post activity item in the current release. That means If someone comments on forum post in activity stream, It will not be able to clear notification for that.
Hope you will like it. Please do let me know your feedback and feature suggestion in comments.