There has been a lot of silence here recently and I had taken the much undeserved break for last couple of weeks. Now, I feel we need something to break the silence again and be back to the actual business, i.e writing plugins/codes.
So, here is the first thing in the series of updates coming this week. I have updated Sitewide activity widget and included all the features which were requested on the original release post.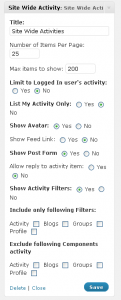 Features:-
Posting from widget
Activity list can be restricted to logged in users activity when a user is logged in
Blog admins can use the widget on their blog and It will show blog admins activity only.
Show/hide avatar
Show/hide feed link
Show/hide the activity filters tab(the links that appear at the top and allows to filter the activity).
Include only specific components activity in the sitewide activity widget(e.g include only profile/blog activities).
Exclude only specific components activity from the sitewide activity widget(e.g exclude group activities from the activity list).
Localization support
I hope, I was able to meet some expectations if not all.
An front-end view with bp-default theme.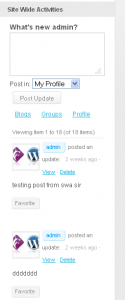 Minimum requirement:- BuddyPress 1.2.5.2
Download Link: https://buddydev.com/plugins/buddypress-sitewide-activity-widget/
How to install:- Just like any normal plugin. you may want to see this original post for more details.
One point to note is, the option "Show my activity" is there for blog admins to restrict this widget to show their activity only. This should not be used in conjunction with the "Show logged in users activity". Also, now there is a css file included with the widget, you may disable loading of the css file by adding the following code to your functions.php/bp-custom.php
add_filters

(

"swa_load_css"

,

"__return_false"

)

;
Please test this plugin and let me know if it works for yo or not, once I get a few confirmations, I will commit it to the official wp repository.
Looking forward to your feedback.
PS: My sincere apology to you if you left the comment here within last 2-3 weeks and did not get a prompt reply. Fortunately things are normal now and I will be replying all the comments within 24 hours.