Hi All,
I am sure most of you are busy building the social networks on BuddyPress. Well, here I am presenting another add-on to help you a little more.
The BuddyPress notifications widget was suggested by @Reboot in the forum. There is one existing notification widget for BuddyPress but that does not allow multi-instance or some other customizations. Reboot suggested updating that widget but when I checked the code, writing a brand new version seemed a much better choice & that's why I am presenting it here today 🙂
Some features:-
Multi-instance means you can have as many instances as you want.
Allows you to show/hide the notification count in the widget title
Allows   you to show/hide the message showing notification count (please see screenshots)
Allows you to show/hide the notification list(well, I am not sure if you would like to use that anyway)
Completely localizable, please use poedit/any other tool to translate
Let us see some screenshots
Ana an example of output(2 widget instances)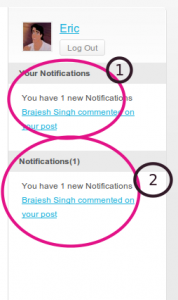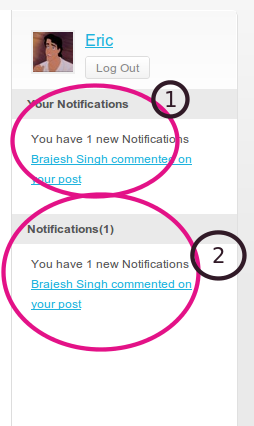 I hope some of you will find it helpful.
Download & Installation:-
https://buddydev.com/plugins/buddypress-notifications-widget/
Git Repo:- https://github.com/sbrajesh/buddypress-notifications-widget
Please do let me know your suggestions or anything you want in the comments.
PS: Last weekend, I promised to write some of the tutorial tips/tricks for BuddyPress. So, I am going to put either one plugin each day this week or at least one tutorial. Please do keep checking 🙂