I had many of you asking for the ways to make cosmic buddy theme work with the group blog. So, here is "CB Group Blog" a child theme of cosmic buddy to use with the group blogs.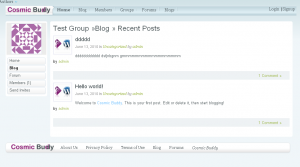 What It Is:-
This is a theme which should be used with Group Blog Plugin.
How to Use:-

That's it. From the next time a group blog is created, this theme will be activated automatically, giving a seamless look for group and group blog.
The current theme is 2 columned, so I miss the area for widgets, if you think the same and want a 3 column theme which will allow you to add widgets, please do let me know in comments.
PS:
Also, I will like to clarify regarding the comments you all left last week. I am sorry for not being able to reply them in time, some personal problems caused me  a lot of tiredness and was unable to reply the comments. From today onwards, I promise to reply in time.