The default subnav slugs are not very obvious in BuddyPress. If you are using BuddyPress Nouveau template pack, There is a simple way to find it(see the bottom section of this post).
For others, Here is the list. The list follows the convention( Tab Name- Default Sub Tab Name – Sub Tab slug).
Activity – Personal- just-me
Profile – View – public
Notifications – Unread – unread
Messages – Inbox – inbox
Friends – Friendships – my-friends
Groups – Memberships – my-groups
Settings – General – general
Finding Default Sub Nav slug with BuddyPress Nouveau:-
If you are using BP Nouveau template pack, you can simply inspect the sub tab in the browser console to find the default subnav slug. Here is how you can do it in Google Chrome.
Step 1 :- Right click on the default sub nav item and select "Inspect" as shown below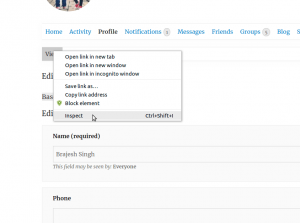 Step 2:- Look for the li element and the value of the attribute "data-bp-user-scope". That should give the correct slug.