The
Maximus Page Builder
is a clean and simple page builder for WordPress. It is only available if you buy one of the themes at BuddyDev.
History:-
It is based on Divi Builder plugin by ElegantThemes.
It is modified with permission to use with our themes.
The interface will look very similar to the Divi Builder. We have modified the Module loading and a lot more internal code. It is much more memory efficient now.
We plan to continue improving this plugin for even better performance.
Maximus has almost same interface as Divi Builder plugin. We have changed the way the Modules are created/managed internally for efficient memory utilization. There is still scope for a lot of improvement and we plan to continue doing that.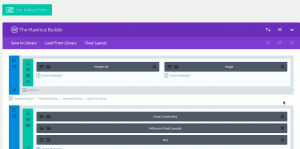 Maximus is only available with BuddyDev themes and is optional. It makes it easy to create stunning web sites but yo are not bound to use it. You can use any page builder or none if you wish so.
Note:- We use Divi Builder as base because we admire this page builder the most at BuddyDev. It is intuitive and once you get the hang of it, It feels so much natural. That's the reason why we contacted the Elegant Theme support on April, 10th, 2016 and got the permission to use modified version of the plugin for our theme/customers.
Next:- Getting started with Maximus Page Builder.