Today, I am glad to finally introduce the BuddyBlog plugin. Currently, it is in basic phase and allows users of BuddyPress to blog, manage posts from their profile.
The basic functionality that it allows at the moment is:-
Basic Functionality:-
Creating New Post
Editing existing Post
Deleting Posts
Publishing Post
unpublishing post(moving to the draft status)
The current plugin supports following things:-
Features:-
Categories association to post
Tags association to post
Upload(can be limited , how many) on the post screen
Limitations:-
It is the initial release, so there may be some surprises(I am hoping there are none)
New categories/tags can not be created from front end(A limitation of simple front end post)
Dependency:-
BuddyPress 1.6+(I have tested it with BuddyPress 1.7 beta and It works)
This plugin allows users to create/manage posts from profile.
Here are a couple of screenshots to show the usage:-
Screenshots:-
Post Lists on Profile:-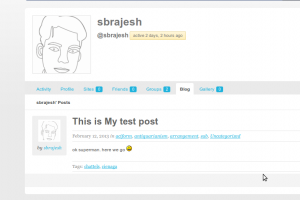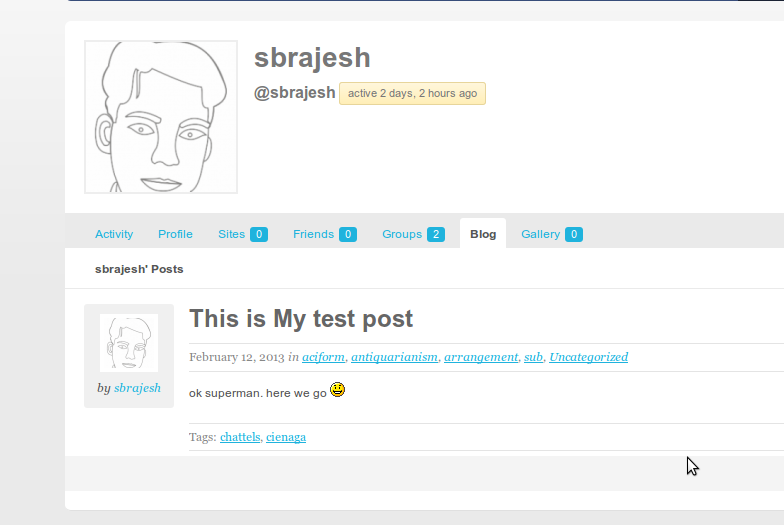 when the user is logged in:-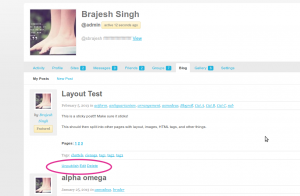 Creating New Post:-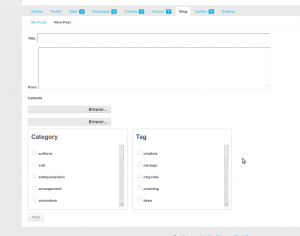 Editing Post:-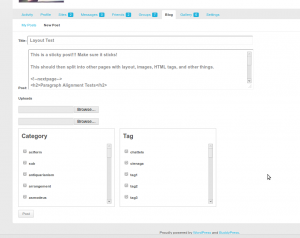 Currently, the best way to use it is having a community blog where everyone can post/edit their own post. The posts are listed as normal post on your blog.
You can use this plugin for custom post type too.
If you want to use it for custom post type, you will need to tell the plugin about this using  following code.
Using with Custom Post type:-


add_filter('buddyblog_get_post_type','buddyblog_my_post_type');

function buddyblog_my_post_type($post_type){

return 'custom_post_type';// it can be say 'events' or 'movies' or anything, just make sure you have already registered the post type

}


Also, if you are using custom taxonomy associated with the post type, you can tell buddyblog about it to output the custom taxonomy list(checkboxes/dropdown) on the new/edit page using the following


add_filter('buddyblog_post_form_settings','buddyblog_my_postform_settings');</pre>
/**
 * Filter on the Post form settings which is used by BP Simple Post Form settings
 * The settings array is structured like this
 * <code>
 * array(
 * 'post_type'=>buddyblog_get_posttype(),//do not change it, use the filter buddyblog_get_posttype to change it
 * 'post_status'=>'draft'//allowed values are draft|publish|inherit(any valid post status value)
 * 'tax'=>array(
 * 'taxonomy_name'=>array('taxonomy'=>'taxonomy_name',//taxonomy_name is the name of taxonomy e.g category, post_tag or your custom taxonomy
 * 'view_type'=>'checkbox',//valid values are checkbox|dd, it tell whether to list the taxonomy terms as checkbox or drop down
 * 'selected'=>array(termid1,termid2),//optional, if you want some terms to be selected by default
 * 'include'=>array(termid1, termid2,termid3)//if you want only these terms to be available to the user, user can select from these terms, if he does not select any terms, all of these terms will be associated to the post
 *
 * ),
 * 'another_taxonomy_name'=>array('taxonomy'=>'another_taxonomy_name',//another_taxonomy_name is the name of taxonomy e.g category, post_tag or your custom taxonomy
 * 'view_type'=>'dd'//valid values are checkbox|dd
 * )//you can add as many taxonomies as you want. Just make sure, the post type is allowed to have these taxonomies
 *
 *
 * ),//end of taxonomies
 * //use custom fields to allow as many custom fields as you want
 * 'custom_fields'=>array(
 * 'custom_field_key_name'=>array(
 * 'label'=>'What ever you want to display as the label for this custom field
 * 'type'=>'type of the custom field',//allowed values are hidden|select|radio|checkbox|textbox|textarea
 * ) 'options'=>array();//array of value=>Label use only for checkbox/radio/select
 * 'default'=>'some default value which is valid for current type'
 * //examples
 * 'privacy'=>array(
 * 'label'=>'Privacy',
 * 'required'=>true,
 * 'type'=>'select',
 * 'options'=>array(
 * array('label'=>'Anyone','value'=>'public'),
 * array('label'=>'Friends Only','value'=>'friendsonly'),
 * array('label'=>'Logged In Users Only','value'=>'loggedin'),
 *
 *
 * )//end of options dat
 * )//end of privacy custom field
 * ),//end of custom fields
 * 'upload_count'=>2;//how many attachments you want to allow with each post, It is a little bit misleading really
 * )//end of settings array
 * </code>
 *
 * @param array $settings is a multidimensional array explained above
 *
 */
function buddyblog_my_postform_settings($settings){

$settings=array(
 'post_type'=> buddyblog_get_posttype(),
 'post_status'=>'draft',//'publish'|'draft' etc

 'tax'=>array( //all the associated taxonomies, the below is settings for post category and post tag
 'category'=>array('taxonomy'=>'category',
 'view_type'=>'checkbox'
 ),
 'post_tag'=>array('taxonomy'=>'post_tag',
 'view_type'=>'checkbox'
 )

 ),
 'upload_count'=>2//how may uploads
 );

return $settings;

}


Please don't get frightened by the above code. These are the settings for BuddyPress Simple Front End Post plugin version 1.1+. I will be posting a complete tutorial and more details about the new features of simple front end post plugin tomorrow.
If you don't need custom post type/taxonomy, you don't need to worry about these settings
Bonus:-
Since you have read my boringly written post, I seriously believe you deserve a dessert 🙂
Here is a sweet bonus, you can limit the no. of posts a user an publish:-
Limit no. of posts a User can publish:-


add_filter('buddyblog_limit_no_of_posts','__return_true');//yes, limit the no. of posts a user can publish

//if you activate limiting of the no. of published posts, the default limit is 100, good enough ? not happy, ok, let us read a little more

//let us set a limit on how many posts a user can publish

add_filter('buddyblog_allowed_posts_count','buddyblog_custom_limit_no_of_published_posts',10,2);
function buddyblog_custom_limit_no_of_published_posts($allowed_no_of_posts,$user_id){
//you can limit the no. of posts by filtering on the user id, say you can allow subscribers 10, contributors 100 and so on

return 20;//limit to 20 posts for everyone

}


Bonus 2:-
Do you want to show the single post view for posts created by user on user profile with comments and not as the normal post on site? Ok, no problem, here you go 🙂


add_filter('buddyblog_show_posts_on_profile','__return_true');


Do you want another bonus? why not visit us again tomorrow 🙂
And the final thing:-
The future Plans:-
Please let me know your suggestions
The Interface design/update for managing posts on user profile, I am really not a fan of what I have done at the moment
Better media uploader integration(Front End post editor, don't know how to restrict the no. of uploads in that case)
Featured image integration(Front end post editor)
Ability to filter posts by status/categories on the my posts screen
Admin settings panel for the plugin(Have yet to decide what feature we may want to turn on/off, please do let me know your preferences)
anything you say 🙂
Download and Installation:-
Links: https://buddydev.com/plugins/buddyblog/
PS: Special thank to Selu, Mercime for the name of this plugin. The name was suggested by Selu and Mercime supported the idea. Thank you both for a great suggestion 🙂
Ok, That's all we have got for today, why not visit us again tomorrow for some more tricks/tips/plugins . Don't forget to let me know if you are using this plugin, whether you liked it, should we improve and anything you say 🙂