Today, I am really happy. Not because I am releasing a free theme, It It is our first WordPress theme publicly available.
BuddyDocs is a specially designed, premium quality WordPress theme for building knowledge base, help center, documentation style websites.
Let us start with a screenshot.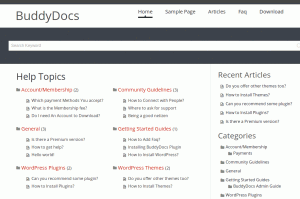 and before saying bla bla bla, let me point you to the demo 🙂
Live Demo:-
http://wp.buddydev.com/buddydocs/
In case you are in hurry, here is the download link.
Download:-
https://buddydev.com/themes/buddydocs/
While you have checked the demo, why not look at the list of features below.
Features:-
Specially designed for Knowledge base/Help Center/ Documentation
Responsive Design( Looks and works beautifully on tab, cellphones)
Clean and simple code

Semantically meaningful markup
HTML5 validated
Optimized for SEO (Check the page outlining using html5 outliner)
Minimalist code (no code bloat)

Multiple Layout option

3 layouts options
Two column left sidebar Layout
Two column right sidebar Layout
Single column Layout

Multiple Page Template

3 page templates included
Two column left sidebar page template
Two column right sidebar page template
Single column Page template

Live search
Admin options

Options to control Layout
Options to upload logo and favicon
Options to add javascript/analytics code in header/footer
Options to import export settings
Single column Page template

Translation ready
100% GPL licensed and opensource
Awesome Modules

Breadcrumb (uses breadcrumb trail by Justin)
Taxonomy Posts List shortcode (uses our very own Taxonomy Posts list plugin)
Nice pagination
Font awesome Icons
Scroll to top
Live Search
Faq post type
That's all available for free. I built it for the upcoming documentation section of BuddyDev. So yes, in future, we are going to have an awesome documentation section on BuddyDev.
Where Can you Use it?
For building general Help Center for your users
For building help docs for your softwares( We will be using it on BuddyDev to document all our themes/plugins)
For building any knowledge base site (college, hosting, anything)
Screenshots:-
While we are wrapping up, let us forget the philanthropist who made their codes/resources available free to the opensource community. Here are the links to the resources we are using in BuddyDocs
Credits:-
That's all I have got for today. Why not let me know what do you think about it in the comments below. I will appreciate all the feedback, suggestions 🙂