Do you want your users to post activity/comment on activity anonymously on your BuddyPress based social network? If ye, this is the plugin you are looking for. BuddyPress Anonymous Activity Plugin allows users to post updates/ post in groups and post comments on activity without revealing their name/link.
Features:-
Users can post activity without revealing their identity
Users can comment on other users activity without revealing their identity
All notifications/mails hide the identity of the anonymous user.
I believe a few screenshots will clear the things in better way. So, here we go.
Screenshots:-
Activity Posting form:-

Activity comment form:-

Anonymous Activity Example:-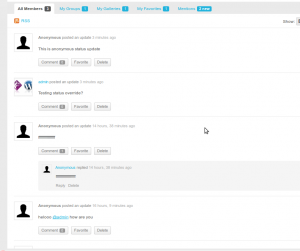 Notification for anonymously posted activity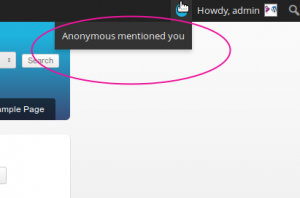 Email Notification:-

The User who posted the activity can see these activities on his/her profile but others can not see it on his/her profile.
Download & Installation:-
https://buddydev.com/plugins/bp-anonymous-activity/
This is a premium plugin and if you have got a BuddyDev subscription, please go ahead and give it a try 🙂
Credits:-  Thanks to Sebastin from http://conwide.de for the idea of the plugin and partially bearing the cost of development.
Please do let me know your thoughts and suggestions in the comment below.