I am pleased to announce the release of version 2.0 of our BuddyPress Live Notifications plugin. Since the plugin's initial release, there have been numerous improvements in WordPress & BuddyPress. BuddyPress got an independent notifications component and the heartbeat api was introduced in WordPress long ago.
The current release is a complete rewrite of BuddyPress Live Notifications plugin to tap into these features and provide better performance with more flexibility for theme authors.
Features:-
As the name says, It shows facebook like real time live notification to the users on BuddyPress based social network
What is new:-
Complete rewrite of the code.
Using the features of BuddyPress notifications component(which was introduced around BuddyPress 1.9.0 )
Uses WordPress heartbeat api instead of long ajax polling for performance reasons( and has much better performance than the older one)
Allows theme authors to change the notifying mechanism, all you need to override is the  notify  method of the  bpln object
Also, It fires custom javascript event bpln:new_notifications when new notifications are recieved on the client side. A theme author can hook to it to do their own modifications.
Download & Installation:-
You can Download it from
WordPress.org Repo: https://wordpress.org/plugins/bp-live-notification/
Or BuddyDev(both are same): https://buddydev.com/plugins/buddypress-live-notification/
Bonus:-
Here is your reward. I created an example plugin to show how to replace the notify window with another and  here is a screenshot showing that in action. I have replaced the packaged notification window with the jquery notice plugin.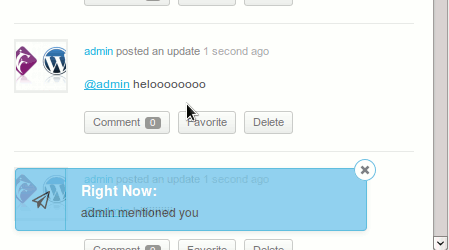 Live Growl using jQuery Notice:- https://github.com/sbrajesh/bp-live-notification-example-module
I hope that the  new plugin will add more value to your site. Cheers for the next step towards a better social site 🙂