I am glad to announce the "Global forums Plugin" for buddypress today. It is available now  and this post is aimed to show you what this forum plugin is meant for and what it can do.
The global forum Plugin allows you to create sitewide forums(as you see in bbpress) which are not linked to any group. It works just like standalone forum with the exception of a few things(like template/plugins). Thanks to @Greg for bringing the idea of global forum in buddydev forum and here we have it.
features:
Standalone sitewide forums
Allows you to create subforums
Support for category forum*
Fully templatable
templatable admin section for forum management
Full tag support(add tag/delete tag)
And most of the thing which you expect from bbpress is available.
Let me show an example from my dev system.
Forum Front End:-
Forum Home
Here is the home screen for the global forum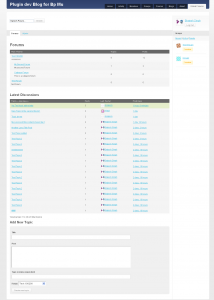 So, the home screen is just like a normal standalone forum where you get the list of all the forums/subforums and the latest discussion topics.
If you are an admin/mod you can see the tab which says admin. I will go into details of admin section later.
Users can create new topic from forum home or from any of the child forum screen.
Single Topic Page
Here is a thread/single topic view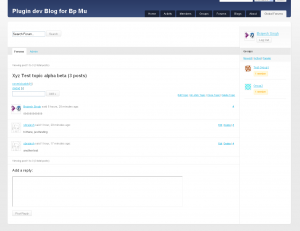 You can post new reply/manage topic from here.You can make a topic sticky/unsticky, close it/open it and many more from any of the topic page. From the topic page, you can also add/delete tags.
Edit Topic:-
let us see the edit topic screen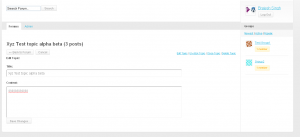 Sub forum layout
If you go to a particular sub forum, It will list all the child forums of that forum and the most recent discussions in that forum as shown below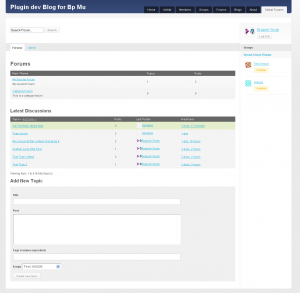 Tag Page
For each of the tag, we get a tag page which lists all the topics containing  that tag as shown below

Search Page
And here is an example of the forum search result page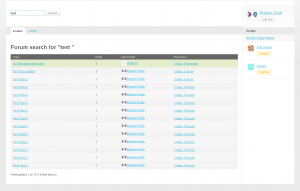 Forum Administrations:-
Now let us have a look at the admin screens. When you click on Admin tab at the top, you will be presented with the admin dashboard which shows a concise view of forum stats and let you perform various admin task. here goes the dashboard.
Admin Dashboard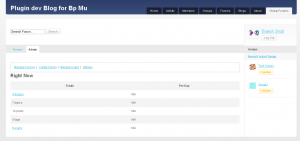 From the admin screen, you can create new forum/manage forums, manage users and perform some other task.
Forum Management
here is a screenshot of Manage Forums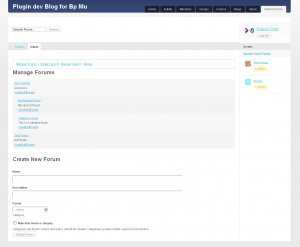 Forum Management page allows you to edit/delete/add new forum.
Edit forum:-
You can edit a forum title/description/parents from Manage forum. Click on Edit forum under the forum name and you will be presented with a screen like this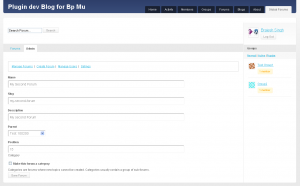 Delete Forum
If you decided to delete a forum, you can always move the topics to some other forum or just opt to delete entire forum andtopic.
here is the forum delete screen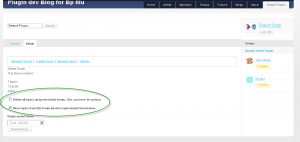 Create  Forum
You can add new forum from manage forum page or  from the  Create forum page as shown below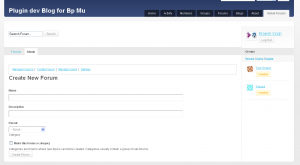 User Management:-
You can manage users from the user management page. you can ban a user, promote to mod/promote to admin and demote to normal users. Banning will stop the user from creating topic/posting replies. Here is a shot from my dev. You can see the banned user has a distinct color code.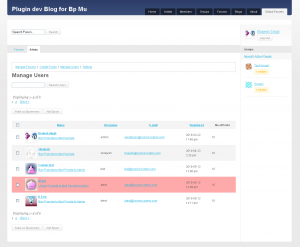 Limitations of Global forum:-
Currently you can not manage users in Bulk(i.e Can not ban 10 users by checking the box, It is coming in next version)
Some of the features may not be perfect
Code is not organized well, I will be organizing them properly in next release which should be next week
And I forgot to include the rss feed support, so It may come tomorrow

Credit:-
Thanks to bbpress team for creating the wonderful peace of software
many thanks to Andy Peatling, I have used most of his code from bp-forums component
Thank to all of the members of Buddydev.com for their support for all the time
special thanks to Mercime, Greg, Chris, Patrick, Roy, Serafettin
Download and Installation:-
Date 11th July 2010:
Stable Version: https://buddydev.com/plugins/global-forums/
Check for new features here https://buddydev.com/buddypress/introducing-the-first-stable-version-of-global-forums-plugin/
Old version:-
1.0 beta 1:-  https://buddydev.com/http//buddydev.com/download/bp-global-forum.zip
Please have a look at the installation documentation here https://buddydev.com/documentation/installing-global-forum-plugin/
Please Note, This is a premium plugin and you can download it instantly after joining our premium club. Just click access buddydev premium link on the top and you will be redirected to the joining page. It costs just $30 for 3 months and It gives you complete access to all of our plugins, support forums .
Bug reports
https://buddydev.com/bt/index.php/global-forums/
What's upcoming:-
Well, since I am almost done with global forums, I will be putting the bp-chat(yes, I had promised long ago, but could not put online because of some personal issues, sorry for that) by 11th (Most probably tonight/tomorrow). And remember Bp-chat will be free. So, please make sure to check back on 11th.
Happy social networking with Buddypress 🙂 and do not forget to leave you comments/suggestion for the improvement of the plugin.