After 3 weeks of introducing this plugin as beta, I am glad to put it as stable today. There have been many enhancements and bugfixes based on the feedbacks of everyone at forum. special thanks to @Greg for reporting the bugs and asking for features.
If you don't know what global forum is, please read this post of mine which introduced it. Still, to make the things easy I will be listing the features again here.
Global Forums allows you to create Sitewide forums just like a standard bbpress forum but these forums can share a single installation of bbpress with group forums.
Features:
Standalone sitewide forums
Allows you to create subforums(You can go upto any levels of sub forum)
Support for category forum*
Oembed support(you will need to have oembed for buddypress by r-a-y installed)
Forum posts/topics feed for global forum
Forum topics/posts feed for individual forum
Fully templatable
Breadcrumb support for forums/topics
Favorite topics for user
My Topics view for user
Unreplied topics view for user
templatable admin section for forum management
Posting to activity stream can be enabled/disabled
Full tag support(add tag/delete tag)
WordPress 2.9.2/wordpress mu 2.9.2/wordpress 3.0/wordpress Multisite  3.0 support
SEO urls
Full bbpress text formatting support(Including posting the code using backticks(`))
And most of the thing which you expect from bbpress is available.
So the feature list has grown tremendously from the very first release. And In the end of this post, I will let you know my future plans for this plugin too .
Screenshots:-
Here is one screenshot.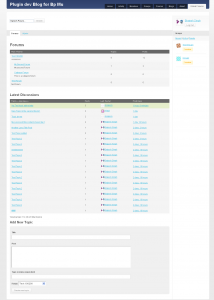 For More screenshots, please check this post
Download:
Current Version: https://buddydev.com/plugins/global-forums/
Version 1.0.2: https://buddydev.com/http//buddydev.com/download/global-forum%201.0.2.zip
version 1.0.2 fixes a bug showing mysql_serverinfo
Version 1.0.1: https://buddydev.com/http//buddydev.com/download/global-forum-1.0.1.zip
Version 1.0 fixes two minor bugs with oembed and group forum exclusion.
Older Version:
Version 1.0: https://buddydev.com/http//buddydev.com/download/global-forum-1.0.zip
Installation and Upgrade
https://buddydev.com/plugins/global-forums/installation/
Found a bug, help us to improve
Bug Tracker: https://buddydev.com/bt/index.php/global-forums/
Need more support:-
Please ask a question in the forum if you need more support.
Please Note, This is a premium plugin and you can download it instantly after joining our premium club. Just click access buddydev premium link on the top and you will be redirected to the joining page. It costs just $30 for 3 months and It gives you complete access to all of our plugins, support forums .
What is more:-
I am thinking of following features to implement and will love to hear your ideas:-
Restricting access to individual forums(restrict users to access a particular forum based on his/her roles)
Porting some of the useful bb plugins for global forum
I hope this version address all the issues reaised, please do let me know your suggestions/views in the comments for the further improvement.