If we run a multisite or a community site based on WordPress, the most common problem we all have is the spam registrations. Is your network getting too much spam? are you fade up with marking each and every spam user individually. Do the spam registrations look familiar?
Well, I am presenting you the WordPress Ban Registration Domain plugin which will help you curb the spam registrations. This plugin allows you to blacklist  emails or domains or even the domain extensions. It is very flexible and may cut a lot of spam registration.
If you want to block all registrations from .info domain, all you need is to include .info in the settings. Let us say you want to block registration from a particular email spam@spammer.com, just include it in the settings and relax. Another option will be blacklisting by domain names. Yes, you can blacklist individual/multiple domains too.
WordPress Ban Registration plugin is simple, fast and very efficient  with the flexibility to allow you ban users by email or domain or even domain extension.
Features:-
Works with WordPress/WordPress Multisite and/or BuddyPress
Allows you to ban new user registrations by

Domain name(e.g example.com)
Extensions (e.g .info, .ru etc)
Email address (e.g spammer@spammer.com, evil@spammer.com)

You can configure who is banned and what message to be shown in the plugin admin panel
It is very efficient
Screenshots:-
A Banned User on BuddyPress registration page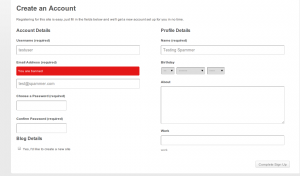 Here is what a banned user sees on WordPress Multisite Registration page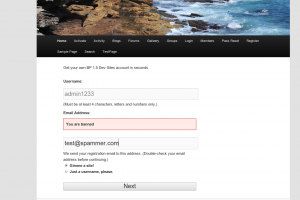 and here is an example for WordPress(standard)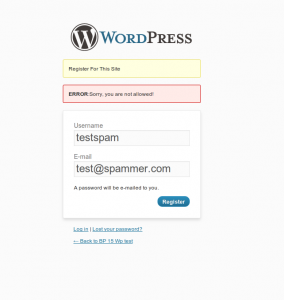 As you see, the plugin works with WordPress/WordPress multisite and BuddyPress.
Admin Page screenshot:-
The plugin admin page allows you to save the ban information and message. Here is from my test site.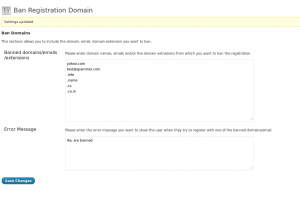 You can access the admin page from Dashboard->settings->Ban Registration Domain shown below.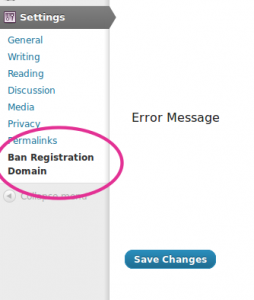 Download & Installation:-
https://buddydev.com/plugins/wp-ban-registration-domain/
This is a premium plugin for now, so you will need an active membership to download it.
This plugin may not curb the spam registration completely but I am  sure it is a step in the right direction, and will cut a lot of spam registrations.