Well, I just updated my old plugin Limit Blogs per user and fixed some of the glitches. Yes, Now it is updated for BuddyPress 1.2.3.
Update[2nd August 2010]: Updated to make it work with WordPress 3.0 MultiSite and BuddyPress 1.2.5.2
Here goes the post about this. If you are wondering about this plugin, you may like to check it on my other blog here
What It does
This is a wpmu plugin which allows site administrator to restrict the number of blogs created per user. So, A site Admin can limit the number to 2, and Then the maximum number of blog, a user can create will be 2. The best case use that I have seen is using this plugin to restrict the number of blogs per user to 1.
Where to Download
How to Install
Download the plugin
Unzip it
Upload limit-blogs-per-user folder to wp-content
Login to wordpress Mu backend as Site administrator
Go to Plugins->Installed and activate "Limit Blogs per User"
That's it
Alternatively, use the Plugins->Add new and either upload/search and install.
How to Use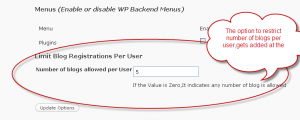 Enter the Number you want to restrict, If you leave it empty or put zero, no restrictions are applied.
What changed in v 1.3.1
Updated to make it work with wp 3.0 MultiSite by hooking on registration option.
What changed in v 1.3
Fixed a bug with buddypress 1.2.3 compatibility causing no limitation.
What changed in v 1.2
No restrictions on Site Admins: It was the most demanded feature(Suggested by: dgodfather, Ray, mercime)
Only the blogs of which a user is admin, is counted as User blogs( suggestions by :madLyfe, Steph ).
* Please note, with version 1.2+ if you want to limit 1 blog per user, set the number to 1(In previous version setting it 2 was required )
Looking forward to hear your experience/suggestions about the further improvement.
🙂