Preparation:-
Before Installing MediaPress on a Multisite install, you should first think about the way you want to use is. You should consider following questions:-
Is your BuddyPress Network Activated?
Is your BuddyPress Multiblog mode enabled?
Do you want to have a separate Installation of MediaPress on all sub sites?
If you don't want to have a separate MediaPress Installation for all the sites, please do not network activate MediaPress. Only activate it on your Main BuddyPress site.
Currently, MediaPress does not support BuddyPress Multiblog Mode.
MediaPress is best suited on a Multisite install if you activate it on main site or network activate if you are using BuddyPress Multi Network plugin.
Please follow the steps below to Install and activate it.
Method 1 : – Using Plugin Installer
Visit Dashboard->Network Admin->Plugins->Add New screen
Search "MediaPress"
Install
Once you have installed, please activate it on the site you want to use. All done, please move to Configuring MediaPress section.
Method 2: By uploading Zip file
Step 1:
Go to WordPress.org plugin download page and download the zip file.
Step 2:
Go to WordPress  network admin dashboard and click on add new plugin tab.

Step 3:
Click on upload plugin button to upload plugin file.

Step 4:
Now click on browse button and upload mediapress zip file.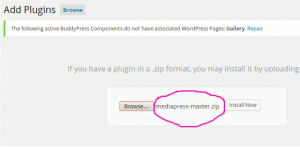 Step 5:
If you are using BuddyPress Multinetwork plugin, Please activate MediaPress networkwide as shown below from the Installed plugins tab.

If you are not using BuddyPress Multi Network plugin, Please visit the dashboard of your main site and go to Plugins->Installed and activate MediaPress.
That's all. Have fun 🙂
Next Steps: Configuring MediaPress