We have another addon for the Bp Gallery ready today, and I am sure you will love to use it.
PrettyGallery plugin is a gallery viewer plugin using the well know Pretty Photo jquery plugin from Stephane Caron of  No Margins For Errors. This is one of the best lightbox script available using jquery and after a few members asked me about viewing gallery using lightbox, I liked the idea to show it using Pretty Photo.
This plugin allows viewing of all the images in gallery using Pretty Photo. No need to go to the gallery page, simply clicking on gallery link opens the  images in the viewer. It also allows to view the phots in activity stream, directory and almost everywhere using the lightbox.
What it does:
Shows the gallery photos in activity stream in lightbox
Shows the gallery photos in directory using lightbox
Shows all the Images of a gallery In pretty Photo
How It works
When a user clicks on a gallery thumb/link, It finds the gallery id from document.
Using ajax, It checks whether some photo exists in the gallery or not, and do the user have the permission to view those set of photos.
If Photos are present in the gallery and the user has permissions to view photos(Say if a gallery has 10 public photos and 20 private photos, then a non logged in/non owner will only be able to view the 10 public photos), a JSOn object containing the image details are sent back
We parse this JSON object and activate PrettyPhoto using the PrettyPhoto API.
Here is an example screenshot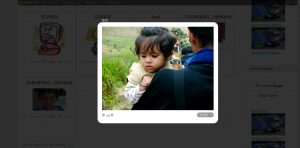 How to Use it
Install it and visit the settings via Dashboard->BuddyPress->PrettyGallery settings.
Installation
Download pretty-gallery from here https://buddydev.com/plugins/pretty-gallery/
unzip it and upload pretty-gallery to wp-content/plugins directory
Login to WordPress backend
Go to Dashboard->Plugins->Installed
Activate Pretty Gallery  "sitewide"
Usage
Login To WordPress backend.
Dashboard->BuddyPress->PrettyGallery settings and save appropriate settings.
If you want to use the widget, Go to appearance->Widgets, Add the "SiteWide Pretty Photo Galleries" to the widget area as shown below
Once you have added the widget, make sure to check the widget settings as shown below
Click save and you are done, you can restrict the gallery type to "Only Galleries from User", or from "Groups"  or all Galleries
Check your site again. Try clicking on a gallery thumb listed by the widget, you will see a new lightbox is opened which shows you all the images from the gallery.
I am done, Now It's your turn to use it, find bugs and helping me improve it 🙂
Do not forget to let me know the enhancement/suggestion in the comment.