Again, we are back with another plugin/widget to enhance your WordPress Multisite.
The widget "BPDev Recently Updated Blogs"  widgets allows site owners to show the most recently updated blogs on the wpmu blog network.
You can customize the title of the widget and the number of blogs you want to show. Further, for the current version, you can either show the blog description or hide it.
Screenshots
and here is the output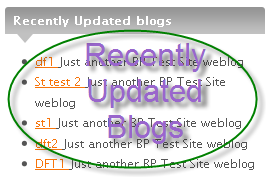 Download
https://buddydev.com/plugins/recently-updated-blogs-widget/
Installation
1. Use The ftp to upload bpdev-recently-updated-blogs to wp-content/plugins
2. Activate it in dashboard->Plugins->Installed
3. Go to Appearance->Widgets and Drag "Recently Updated Blogs" to the widget area you want.
4. Rename the title and set the other options if you want
5. Go and check the site . It should be able to show the list of recently updated blogs
If you have any question or any trouble, please drop a line here in comments or in our support forum.
I will be glad to help 🙂