We released BuddyBlog 2 years ago and since then, it has been used on numerous projects. With changing time, It was evident that the plugin needed a new life. I am glad to inform you that we got some time last week to work on BuddyBlog. Today, I am feeling proud to present you the new updates.
What is new:-
A new admin settings page that allows you to take control over all features of BuddyBlog
Any custom post type or built in post type can be used as the user blog post.
Any custom taxonomy/taxonomies can be allowed for user to post their blogs.
Admin can enable/disable no. of posts a user can create.
Admin can enable/disable who can create the post
Fine grained control for allowing users to publish/unpublish, edit posts on front end(Using WordPress capability).
Admin can prefer to allow users to edit the posts on front end or in the dashboard(only applicable for contributor and above). It can be further customized to allow some users to edit in dashboard while others on the front end.
With the new Simple Front End Post, WYSIWYG is enabled by default.
Also, we refactored the code to follow WordPress coding standards.
Screenshots:-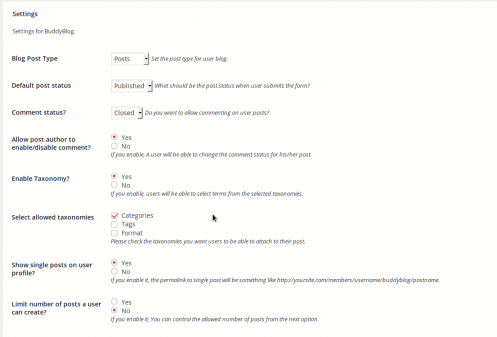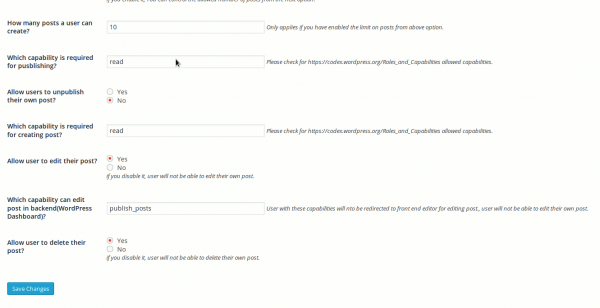 You can access BuddyBlog settings by visiting Dashboard->Settings->BuddyBlog
If you enable taxonomy, please make sure to save the form twice, first time selecting the post type( if you choose a custom post type) and 2nd time, the form shows the proper taxonomies associated with that post type, so select those taxonomies.
Note:-
You must install BP Simple Front End Post Editor to allow users to post from front end.
Download & Installation:-
https://buddydev.com/plugins/buddyblog/
Please do let me know in comments if this upgrade caused any issue or you have any suggestions/feedback.