Do you want to restrict users from changing a profile field data after they have updated it once. If yes, BuddyPress Non Editable Profile Field plugin is here to help you.
The goal of this plugin is to:-
Allow admins to mark a profile field as non editable.
Do not allow users to change the profile field value if the field is marked non editable.
How it works:-
Once a field is marked, It allows user to save the data for one time. Once the profile field data is saved, the user can not modify or change that. Admin user can still change the profile fields data though.
Where it can be useful:-
A few cases that comes to my mind at the moment are:-
Gender field:- You can use it to restrict users from changing their gender
Date of Birth Field:- You may restrict users from changing their date of birth after they update it
Member type:- May be you don't want to allow users to change their member type( Are you using the new member type api? It is awesome!)
… I am sure you will find other scenario to use this plugin 🙂
Screenshots:-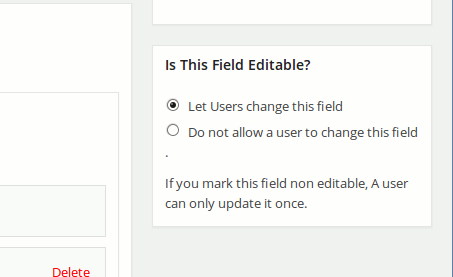 Download & Installation:-
 https://buddydev.com/plugins/bp-non-editable-profile-fields/
Let me know your thoughts & suggestions in the comment below 🙂