So, we are talking about setting a default theme, which gets activated automatically when a user creates a new blog.
There are various ways to do this. I will discuss here two approaches.
Approach 1:
Select a theme you want to get activated by default(Instead of the Default Kubrick theme) and rename the selected theme to "default". That's it. You are done
Wait for your users to create new blogs, and they will have your favorite theme set as default theme.
Approach 2:
ahh!! I don't like editing using FTP, show me other approach.
Well, Here I introduce this simple plugin called BPDev Default Theme for Blogs.
BpDev default Theme for Blogs is a simple plugin which allows site administrators to select a default theme for newly created blogs. This selected theme will be automatically get activated when an existing user create a blog or a new user signs up for a blog and his/her account is activated.
For current Version(For WordPress Multisite 3.1+) &Installation, Please visit the plugin page
thttps://buddydev.com/plugins/default-theme-for-blogs/
For WordPress Mu upto 2.9.2, please continue reading.
Installation
Go to dashboard->Plugins->Add New
Use Upload(from the top menu) and Upload the plugin
Activate the plugin Site Wide
That's it.Alternatively you can use ftp to upload the plugin to wp-content/plugins or wp-ciontent/mu-plugins.
If you upload to wp-content/plugin, this plugin must be activated sitewide. If you have uploaded to mu-plugins, you don't have to activate, It is activated automatically site wide.
How to Use
1. Login as Site admin.
2.Go to Site Admin->Options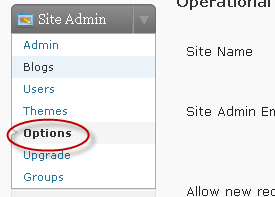 here you will see something like this

A drop down with all the themes you have allowed for your site.Select the theme you want to use as default theme and Click Update Options.
That's it, you are done.
Download Link