Welcome to the era of damn cool social networking with Buddypress. So you have got everything from Buddypress, all the components which builds a social network.
What matters the most in a social network is reflecting the uniqueness of your network, so you do custom theme, a lot of plugins and everything to make your social network unique. But what happens, when someone forgets his/her password, damn!,[s] he has to see the not so themable wordpress login/password reset page. It is something which every webmaster will hate to confess, but the truth remains, you don't want your user to see the login screen/password reset screen provided by WordPress, or do you ?
Well, here I present you the Branded Login for Buddypress plugin to solve your problems. It allows you to theme your login page, password reset page as you do in your buddypress theme. Is'n that cool!  Each unique theme have their own login/reset and everything screen. And the best of it, the user will never see wp-login.php even if [s]he tries too. [s]he will be always redirected to the themed login page on the front end of site . cool, heh!
Well, let me show you what it does for you
Templatable Login page(yes, you can put the login.php in your theme/blogin and it will pick that)
Templatable Password reset page(same, put resetpass.php in your theme/blogin and it will pick that one).
Redirect user to front end login, i.e yoursite.com/login when they try to access wp-login.php
Redirect User to yoursite.com/resetpass if they try to access the reset password option.
Customize your Login slug/reset password slug
Customize the password reset messages to send the user to onsite page
Frond end logout, i.e complete replacement of wp-login.php, if you use this plugin, you even don't need to use wp-login.php
And more, I have added a function to remove the buddypress login menu with the custom menu to point to your on site login page, not the wp-login.php.
I heard someone saying  a picture says a thousand words, so why not we should see some pictures then 🙂
Here It is enabled on one of my test site wpknight, and I have captured a few screenshots to show it in action.
Themed Login Page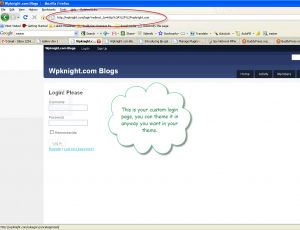 This page is completely themable, I have added the template files for default BuddyPress theme. Note the url in the location bar. It is mysite.com/login, not the backend.
Well, If you enter some wrong user name and password, what do you expect, you should be redirected to wp-login.php, hey come on, you won't. Here are a few combination of wrong username and password and the screenshots for them.
On Invalid password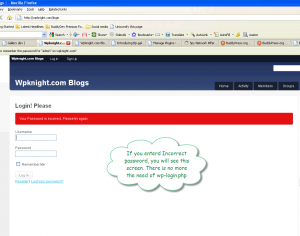 And If you leave user name empty and put some password. You will get something like this
And if you entered both correctly, then man! you will go to the home page of the site.
Reset Password
Now let us see some reset password thing, you see there are links at the bottom, well, you can use them to point to reset password page.
Here is the mystery unfolded and the whole process illustrated:)
Reset password screen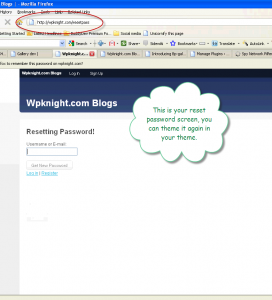 So, if you enter invalid username/email, you will be presented with our damn cool red marked screen as below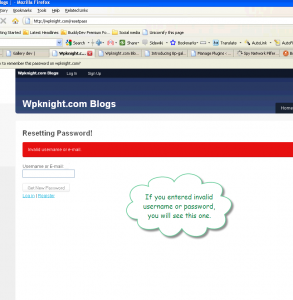 Cool, ahh yes, I know 😀
And in case you decided to enter correct username/email, you will see our green signal here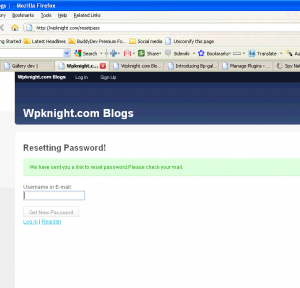 Hopefully your server decides to send the mail then you will be greeted by a mail in your inbox which shows the divine way to reset the password. Here is what I got.

About the black line, someone told me, brajesh, you should never show the keys they are secret to the door, so I have hidden it for now.
Make sure to notice the url, It points to yoursite.com/resetpass/validate/?key=some secret key&login=the damn cool user name
When you click on this link, you will get a greeting again like I got here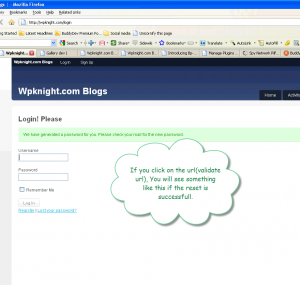 And that's not all. You will need to check your mail again in order to get the not to be memorable password for you. I too got some cool password, but again blacked(Now I hope you know the reason why :))

Make sure to see the url for login. It links to our front end login page.
So, I hope, you have got some clue about what this plugin does, and If not, you can continue reading this post until my server says please pardon me 😀
Ok, enough fun, now coming back to the topic.
This plugin is built of two things. One is plugin core file and another is template. The plugin handles all the actions and processes them accordingly and the template files which you can theme in anyway you want, is used to present the user with the various screens.
There are two template files
blogin/login.php:- to show the login screen
blogin/resetpass.php: to show the Password reset screen. If you need another screen too, then do let me know  in the comments.
And what is more cool that I decided to replace the BuddyPress top nav login link, which points to wp-login.php with the link which points to on site login page. So, once this plugin is activated, the link will automatically point to out custom login page. Further, all the relevant urls which point to wp-login.php will be redirected to our login/passwordreset/retrive password pages, logout link will be corrected automatically using filter to point to yoursite.com/logout.
Now That's all for me, It is time for you to grab this plugin and make sure your site is now have a branded login.
Download
Get the plugin from here https://buddydev.com/plugins/bp-branded-login/
Installation
Unzip bp-branded-login.zip
Move blogin folder to your current theme
Upload bp-branded-login folder to wp-content/plugins directory
Login to WordPress backend
Go to Dashboard->Plugins->Installed and look for "Branded Login for Buddypress"
Click Activate and you are done.
If you are not using bp-default theme, then take a look at the blogin/login.php and blogin/resetpass.php, these two files contains two simple forms, just copy the form to your template and replace login.php/resetpass.php with your template having the same name.
And keep yourself tuned for my upcoming next plugin today/tomorrow which will allow to perform global search on single page in BuddyPress. You know what I mean, yes, on a single page, you will have all the results for the search term from groups, members, forums, blogs and all, that's cool, isn't it. And that plugin is free, so make sure to visit and grab the global search plugin for buddypress 🙂