Well most of you, who visit this site and read the blog will remember that I had ported BuddyPress Wire component for Cosmic Buddy Theme. Yes, that was too much theme specific and did not worked well for bp-default/other themes.
So, after a few requests I decided to do some coding/editing again for the plugin and the theme files and here is the bp-wire back for your BuddyPress site. This is not the full featured wire plugin(IMHO, as I want to put the privacy to the wire), but it does what the older wire was supposed to do.
What it Does:-
Allow your users to have a wire/wall where other users can leave comments without messing with the activity stream.
Here is a screenshot from my dev system with bp-default theme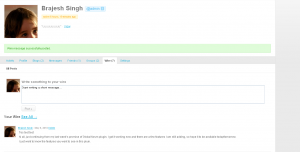 What should you expect in next version:-
Fully working notification
Notify by email
Privacy options for who can see the wire(friends/loggedin/all)
How to Use It:-
Installation:-
Download bp-wire-v1.1.zip
Unzip it and upload bp-wire to wp-content/plugins
Login to wp-admin and activate bp-wire by going to Dashboard->Plugin->Installed
Move the folder "wire" from bp-wire to your theme/child theme
Copy the content of style.css from wire/style.css and put it in your theme/child theme's css file
Now go and check your/others profile
Miscellaneous Usage
Using bp-wire on profile landing page(hmm, It's going to be your Activity page most of the time)
Put the following line just below line 41(If you are using bp-default) or at any appropriate place you want) in yourtheme/members/single/activity.php
<?php

if

(

is_user_logged_in

(

)

&&

!

bp_is_home

(

)

&&

bp_is_member

(

)

)

:

?>

<?php

locate_template

(

array

(

"wire/post-form.php"

)

,

true

)

;

?>
Credit: All the code used in the plugin has been taken from buddypress 1.1 branch and are original work of Andy Peatling, I have just modified it to work with buddypress 1.2 and packed it as a plugin.
Have questions/comments/suggestion, please feel free to leave below, after all the plugin is for you, so your comments/suggestions will help to shape its future  🙂