hi All, I am really very glad to introduce Bp Gallery Rc4 today. We have been working on the gallery for the last 4 months and have gone through several release from alpha, beta1, beta2, rc1, rc2,  rc3 and n ow here comes Rc4.
I am heartily thankful to all the members of Buddydev community for keeping faith in me and helping me in putting this work online. Gallery would have never been the same where it is now.
When I started developing, I had a basic idea, develop a media component for Buddypress which allows easier uploads of photos, yes, that was it.
But with time and the suggestions of all the nice and helpful people around, The  idea became more versatile, develop a media component for buddypress which handles all sort of media. And we dropped all the code back in November to start with a fresh codebase and develop the gallery which should be capable of supporting all the medias. It is not perfect yet, but we have a got a thousand things to show you what we have done.
And before I go into details, I would like to thank a few people here,  specially  Mercime, Bowe, Roy, Chris, Patrick, Mike, Nick, and all the buddydev community. Their feedback/codes and support were invaluable and they helped in almost all the aspects, so If I say, I developed this plug in, It is just inappropriate, The gallery Rc4 which you see today, is a combined effort of all of our members here. Thank you all for all your supporting me, all these time  🙂
Now, let us come to Rc4:
Features at a glance
User Galleries

Unlimited Gallery
Each gallery can have any number of media(Photos/audio/videos)

Group Galleries

Unlimited Gallery
Any Member of group can upload
Only group Admins can create Gallery

Multiple types of media Supported

Photo Gallery
Audio gallery
Video gallery
Can be extended with few code to support any time of media you want

Privacy

Fine grained Privacy control for gallery/media
User gallery/media can have the status private/public/friends only
Group gallery can have status public/private

Multiple Uploads

Upload multiple files without any extra effort, just select and click upload
There is no limit on upload size, It depends on the size you set in gallery settings and/or The maximum upload size allowed by your web host

Uploading and Sharing from Activity stream
Publishing to Activity stream or not is in your hands, you can publish multiple images/videos etc to the activity stream and it will appear as single entry
Shortcode

For embedding Gallery to your blog posts
Embedding Photo/Audio/video to your blog

Widgets

Sitewide gallery widgets
Sitewide media Widget

Directory where all the public galleries are listed, you can search them, filter them by Audio/video/photo
Security:- I can vouch for gallery being 99% secure, the rest one percent is always uncertain 🙂
Object caching:  If you enable persistence object caching, you can reduce upto 90% database queries
100% Buddypress aware, disable Buddypress, the Gallery will not cause any issue/error.
Modular and decoupled

decoupled from Group(If group is disabled, gallery will still work)
decoupled from Activity(If you disable activity, gallery will work, but support for commenting and publishing to activity stream will be no more available)
decoupled from Friends(The privacy features will work even if you disable friends component)

Extra addons

WordPress Plugin for TinyMce to insert gallery/media to your post/page(Thanks to Phillip)
Widget to show sitewide listing of gallery/images(Thanks to Phillip)
Highslide Slideshow for showing Images (Thanks to Phillip, will be coming soon)
jQZoom Plugin to show case site wide Public Photos

Site Admin settings:

Control which media types are allowed, enable/disable galley types,i.e you can enable/disable Photo Gallery/Video Gallery/Audio Gallery
Set maximum upload space per user
set maximum upload file size
Enable Disable gallery Link
Enable/disable upload from activity stream
Show the remaining/used space to users
got an issue, enable debug mode of gallery to see what's going inside
Set Image sizes for Thumbnail/medium/Full size

What Is Coming In future:

FFMPEG Support for Video Galleries
Face Detection/Tagging(OpenCV extension will be required)
Gallery from Youtube/picass/flickr/vimeo etc
Various CDN Support
Decoupling of  Video Player to allow you use various players to choose from

Upcoming Addons:- atleast 4-5 slideshow widgets to showcase the gallery media(Including supersized,mooflow and more)
Introduction:
Bp Gallery is the ultimate gallery plugin for your Buddypress powered site. It Gives you complete control over the media. Since the files are stored on your server, so you have full control over the media and you don't have to worry about giving your private data to anyone else.
here are some screen shots of the most recent release to show you, what It is like
Gallery Creation:
When a user is at his/her home, they will see the gallery link. Clicking on it brings a screen which looks like this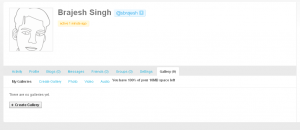 Click On Create gallery button, or Create gallery link, a new page will be loaded using ajax which looks like this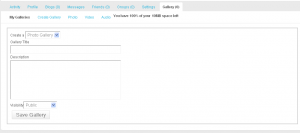 here you can select the type of gallery (i.e You want to create Photo gallery/Audio gallery/Video gallery), enter some title for you gallery , description is optional, and click save, the request will be submitted asynchronously and if gallery is successfully created, you will be redirect to a new page where you can upload media(depends on the type of gallery, if it is a photo gallery, you can upload multiple photos, if video gallery, then you can upload multiple videos). here is a screenshot of upload screen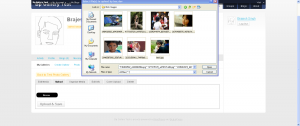 Select as many files as you want to upload and  click open.
The files will be listed as shown below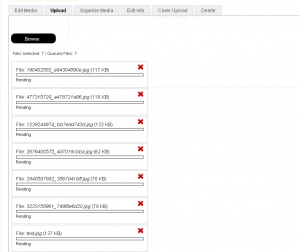 Click  Upload and save Button and file will start uploading.
Screen shot of Upload progress screen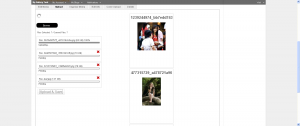 When all the upload is complete, you will be presented with the screen to edit media details(there is no page reload, It is accomplished via ajax).
here is what you will see
Bulk Media edit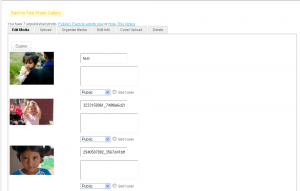 You can change the title/descriptions and set the privacy level here. Once you are done, click save and you are done. You can visit the gallery by clicking the navigation above which says back to "gallery name".
Drag and drop reordering of media inside gallery
In case you want to change the display order of the photos/videos, click organize tab, and you will be presented with a screen like this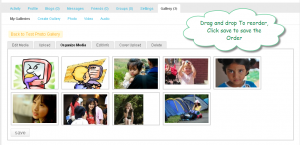 Drag and Drop Photos to sort. Once you are done, click save and yes, you media is reordered.
Click, edit details tab, to edit gallery description, In case your gallery does not has a cover image and you don't want to use ythe images from gallery as cover, you can upload a separate cover image  here
Publishing to activity stream:
If you have uploaded multiple media and Want to publish them to activity, click the link above edit screen, which says publish to activity or click hide notification tab to hide the notification.
If you clicked publish to activity stream, the media will be published to activity stream.
here is how it looks like.
Activity Stream
for Photo gallery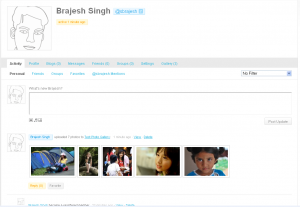 And If published media were Videos, you will see an entry in activity stream like this
i.e,  A Video Player with the playlist items.
Now, The post is getting too long, so I will just post a few more screen shots.
Video Gallery
here is how Video gallery page looks like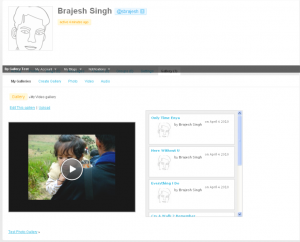 Media comments
Activity Comments are synchronized with media, so If someone leaves comment on media and It appears in activit and then someone leaves comment in activity stream, the comment will appear on single media page.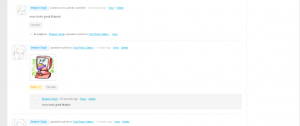 And here is what appears on single media page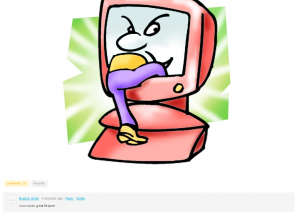 And do not forget, we have Group Galleries too
Group Galleries
How about uploading from activity stream:
Uploading from Activity Stream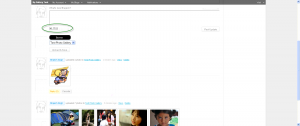 And How about a gallery page, where we can lists public galleries/ search galleries by title/description and filter by type(say Photo/audio/video)
Gallery Directory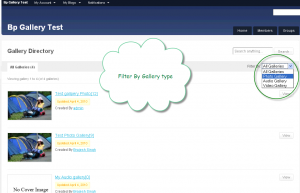 And, don't forget we have shortcodes for embedding galleries to Blog posts and widgets to list galleries/photos in sidebar.And here is my What I just did a few minutes ago, well, you can showcase the most recent public photos in sidebar and showcase it using jqZoom plugin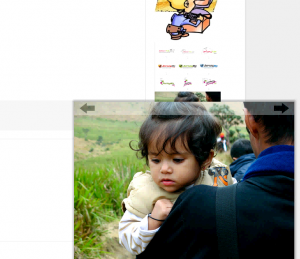 Faq
1. How many galleries are permitted: There is no limit. It all depends on you and your server. Every User/group can have any number of galleries with any number of medias inside(In their permitted space)
For the screen shots of Gallery Home page/media listing, please check this post. https://buddydev.com/buddypress/bp-gallery-beta-available-now-download-test-and-enjoy/
Downloads
Please Visit this link for the current status and download: https://buddydev.com/plugins/bp-gallery
Installation
Please check this page:-
https://buddydev.com/plugins/bp-gallery/installation/