BP Group Activities Notifier plugin notifies group members of any new activities in his/her group.
It is based on simple idea to add a local notification for user(Like  other social networks) when any activity happens in his/her group.
Here is what it does currently.
Features:-
Notifies members if someone posts an update in the group
Notifies members if a user joins the group
Notifies members if someone posts a new topic
Notifies members on new reply in the forum
Should work for any other plugin which adds activity in the group
Here is a couple of screenshots:-
Screenshots:-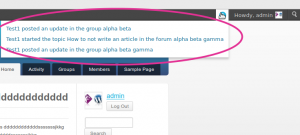 Currently, in the initial release, it only locally notifies the users(Adds these to users notification list on the network).
I am looking forward to your suggestions for the future improvements. What do you think about these ?
Should we allow users to opt out of the notifications? If yes, what should we do by default, keep them subscribed and allow to unsubscribe ?
Should we send emails on new group activities?
Is there anything else you want to do ?
Please let me know your suggestions and I will be more than happy to have them in 🙂
Download & Installation:-
Link: – https://buddydev.com/plugins/bp-group-activities-notifier/
Credits: The idea of the plugin was suggested by Jack  in our forums a week ago, so mine and your special thanks to him for the idea 🙂
This is the fourth plugin in the series of 17 plugins we are trying to release before BuddyPress 1.7. Why don't you suggest us a plugin if you need them, I promise, we will do our best to bring them to life 🙂