Ever wished to give your users the control of private messages. Have you wondered how facebook and other social networks allow users to have fine grained control over who can send the message ? Want to give your Users full control over their private message.
Well, Here I am presenting you the BuddyPress Message Privacy Plugin. BuddyPress Message Privacy plugin will give your users complete control over who can send a private message to them.
Features:-
Each user can control Who can Message Him/her
A User can opt for receiving message from everyone, friends only or specify a custom list of users from whom he want to receive messages
Users can create custom list for other users who can send him/her message
Users can create custom blacklist of users who will never be able to send him/her the message
Super Admin can always send message to anyone
I hope, that tells a lot about the plugin. Let us see the settings page for more details:-
Screenshots:-
Users Privacy settings Screen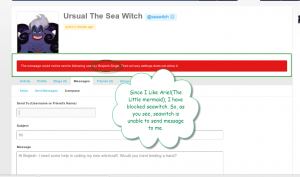 As you can see from the first screenshot, The user can opt for one of the three privacy level. In addition to that, A user can create a list of white listed users/blacklisted users. The allowed users will always be able to send him/her a message regardless the settings.
Same goes for the banned Users. Regardless of the privacy level, if a user is listed in the banned list, they won't be able to message him/her.
Download & Installation:-
https://buddydev.com/plugins/buddypress-message-privacy/
Please note this plugin is a premium plugin.
Let me know what do you think of this message privacy component and the new functionalities/updates you want. Looking forward to your suggestions.
PS:- A couple of new plugins(and Interesting ones) are coming very soon, so please make sure to subscribe to the feed or please keep visiting the site.