I am in hurry while releasing this beta 3(you may want to call it RC even) as there has been numerous questions on the status of BP Chat. A few fellow developers even suggested to move on and use some other chat script. So, I just wanted to assure that the project is not dead and will not be dead in future. Further, If you know a feature a premium chat script supports, and is not available in bp-chat/bp-chat's upcoming feature list, please do let me know in comments, I am going to put the stable version with all those features before the end of this month. Please do not ask for video/audio chat, as I have done enough research and that will require streaming server( and I am sure, majority of site owners will not be able to have that on their server).
I am calling it beta 3, as I dropped the sound notification at last minute. Please read about BP Chat here.
This version contains fixes for:-
User presence detection
Will detect the logged in users automatically, no need to logout/login after the installation of plugin
Will detect User logging out/closing the site in browser even logged in (Please note, if a user does not logout but closes the site, he will be shown inactive for first 5 minutes and then he will be in logged out state, If user logs out, then there will be no delay).
If a user keeps the site open but is not active, the plugin will detect presence and show him as inactive/idle
Upcoming features:-
File Sharing  with other user
Admin panel for Bp Chat
View Chat History for User
Better UI
Sound notification
Allow user to set status as Busy/ have some status text.
and let me know what else you want.
For Next 3 weeks, I am going to put an update each weekend for BP Chat, here are the expected features and their timeline
Week 1:
Expected date 11-13th March
Adding support for Sound completed in beta4, now will be adding UI for controlling the audio volume/turning on/off
Fixing any conflict reported by users
Week 2:-
Expected release date 18th-20th March
Admin panel for Bp Chat
View Chat History
Week 3:-
Expected release date 25th-27th March
File sharing
May be group chat(not so sure about this)
Some screenshots:-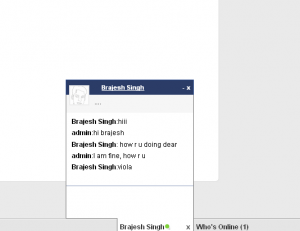 User Idle:-
And so on for the offline.
Please note, I am not a graphics designer,  so I was not able to create the status images(the round one you see) well. My associate designer should be back this weekend, so will have better icons. If you are a designer and will like to help, I will appreciate providing those icons(11×11 or 12×12 px).
Download & Installation:-
https://buddydev.com/plugins/bp-chat
Upgrade:-
Please Make sure to visit the wordpress dashboard atleast once after upgrading the plugin.
I could not fix the conflict with BuddyStream, as I don't have an active install with that. If you have got one, please help me to test and fix.
Looking forward to your tests and comments.