It is very easy to create a new BuddyPress group tab with the BuddyPress Group Tabs Creator Pro.
Step 1:- Open Group Tabs screen.
To open group tabs screen, Please Open Dashboard->Group Tabs as shown below.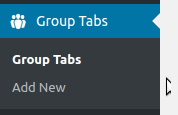 Step 2:- Click on Add New Link:-
Click on the Add New menu item.
Step 3:- Add the tab details.
You will see the options to create tab here. Please follow this guide to understand group tab options.
Next: Group Tab Options.