Are you looking for privacy plugin for BuddyPress? Ok, your search ends here(almost).
BuddyPress User Profile Visibility Manager is a plugin that allows you to give control to your users to manage their account privacy.
This is the first release and I have covered only basics at the moment, based on the feedback I am looking forward to take it to the next step though.
The BuddyPress  User Profile Visibility Manages gives following controls to the users.
Features:-
A user can show/hide his profile in Members Directory
A user can hide/show his profile in directory searches
A user can hide/show his last active time
A user can make set his/her account to following status:-

Everyone: Everyone can see his/her profile
Logged In Users Only: Only logged in users can see his/her profile
Friends Only: Only his/her friends can see/access his account
Only Me: That's private. Only the user and the super administrator can access his/her profile

A user can allow/block  friendship requests
So, that is a mix of privacy + visibility or you can say, it allows your users to have preferences over what they want.
Here is the Profile Visibility Settings:-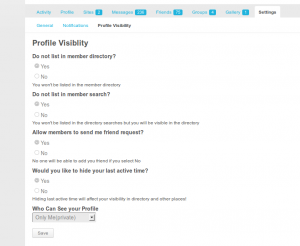 Here is an example of hidden last active time:-

In its next update(depending on your feedback), I plan to include the following:-
Message privacy( Who Can send him/her messages). We do have a plugin that allows this at the moment
Mention privacy( Who can mention this user)
Activity Privacy (Still hoping to manage who can see the activities, do you think, we should include it).
Download & Installation:-
This is a premium plugin and I hope that you all will use it to empower your users and give them more control over their profile. Please do let me know if you want some modifications or