Hi All,
I am very happy today to introduce the first stable version of Bp Gallery. It has taken around more than 8 months to come to stable. We had numerous alpha, beta and release candidates to test, test and test. So, It's very special for me to introduce gallery as stable today. I can't thank the community members enough for their test, advices and support for the improvement in the plugin.  Thank you all for helping me  making it stable.
What is BP Gallery:-
From the very beginning of it's development, we had a goal to create an ultimate media gallery for the BuddyPress based social network.  BP Gallery provides you that ultimate media gallery component. It enables you to control all the aspects of media. It can be used as photo gallery, It can be used as video gallery, It can be used as audio gallery and It can be extended for almost any type of media. Name me a type of gallery you want, and I will provide an addon for gallery to handle that. It is flexible, it is extendible and it is very much customizable to your very own liking. You can customize every aspect of gallery, including enabling disabling for components(like profile/group) etc. I guess,  the best way to know something is to test it. So, have a look at new demo http://plugins.bpdemos.com/bp-gallery and test it for yourself.
Current features:-
Unlimited profile Photo Gallery
Unlimited profile Video Gallery
Unlimited Profile Audio Gallery
Group Gallery support
Gallery can be enabled/disabled for a particular user/particular group
Gallery can be enabled disabled for User profile(You can disallow profile gallery and keep it as group only gallery)
Gallery can be disabled for groups completely and can be used as profile only gallery
Multilevel privacy for profile gallery(public, friends only, private)
Multilevel privacy for groups gallery(public, private)
Privacy is applicable to gallery as well as individual media level
You can enable disable allowed media type(keep it as photo only, audio only or video only gallery)
Integrated to activity for media commenting/publishing to activity
Publishing media to activity can be automated
Publishing media to activity can be set as Bulk Publishing(Multiple photos/media in one activity entry) or  just single media item per activity
Media can be uploaded from  computer or added from web
Uploader will work with Non flash based device(Not tested with mobile device though, I tested by disabling flash in browser)
You can add images from flickr/photobucket(and extend for any site which provides oembed support with a single filter and 2 line of code)
Videos can be added from youtube and Vimeo(Can be extended for any site which supports oembed with a filter and 2 lines of code)
Light box everywhere(You can have light box in activity for image view/on directory page/on gallery listing page or even on directory page(using Pretty Gallery plugin)
Group Galleries available from profile
Improved Gallery directory(lists my galleries/my group galleries)
Multiple templates(with flowplayer/mediaelement.js player, you will have  to download templates separately)
Delete Audio from Play List[in case of flowplayer template]
Delete Video from Playlist[In case of flowplayer template]
Comment on video playlist page[ with flowplayer template]
Comment on audio playlist page(When an audio is played, the comments are loaded for that video/audio and user can comment further)
Square Thumbnails support
Original Image can be preserved now
You can create any number of thumbnails(It is using media meta) and access it(will need you to register the sizes with key name)
Uploader fallback for html5/non flash based device
New filters for allowing size limitations based on roles/individual user
Gallery API to create new Media types easily with gallery(*say pdf documents and so on, It is not finished yet but can be done with current gallery, will have fully functional api in 1.1)
Gallery API to attach gallery to any other component
Group Admin Can enable/disable gallery tab
All the widgets are re-written for better compatibility and flexibility(see the screenshots below)
Improved shortcodes
Embedding of gallery media in other places possible.
Fixing css conflict with WordPress gallery
Improved privacy(fixing the bugs)
You can easily enable gallery to show external media only or uploaded media If you want
Complete code refraction and organization
Powerful template system, allows you to customize almost everything from gallery template/functions.php
Removed the notice plugin
The video/audio player is decoupled from plugin, so you can use any video player of your choice and change player if you want.
Uploader is decoupled from Gallery to allow you to switch to other uploader if you want
Disable/enable flash uploader from admin
A lot of documentation for gallery is coming to allow you do many more things
Upcoming features as Plugin:
Rating Plugin for media
Photo tagging plugin(almost complete, will be releasing in upcoming week)
Next version will support:-
RTSP Support
Sharing of media among the galleries(may be group and personal)
RSS feed for the media items
Remote Storage(using CDN)
Upload By email
Adding full fledged  API support for extending gallery further
Upload Anywhere
Improved admin panel for Gallery(currently it is just simple one)
Screenshots:-
Let me show some screenshots from the current change,. I have not changed the look and feel of the template but moved the css to gallery template to allow you change it easily if you want.
Profile Gallery Listing:-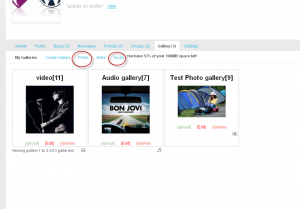 You can use the top filter to list Photo gallery/ Audio gallery/Video gallery, otherwise all the types of gallery will be shown by default.
Photo Listing On Single Photo gallery:-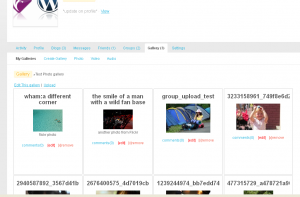 A Photo gallery can contain uploaded photos and/or photos from site supporting oembed as shown above. In the above gallery, there are 2 uploaded photos while rest of the photo are from flickr.
Single Photo Page:-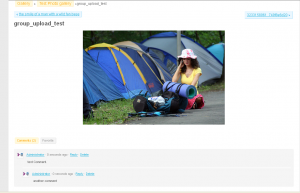 A photo from flickr/photobucket/oembed supporting site will be also shown as  larger size just like other photos. So It gives the impression of photo being on your site/gallery while the actual photo is on remote site.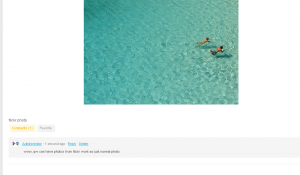 Users can comment on external media in same way as normal and tag it just like the uploaded image(with the help of upcoming tagging plugin)
Single Video gallery Page:-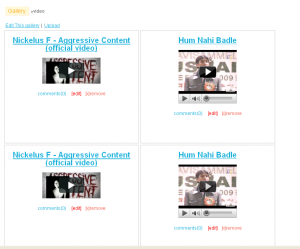 A video gallery can contain the videos from youtube/vimeo/any other oembed supported site as well as the uploaded videos.
here is another screenshot with mediaelement player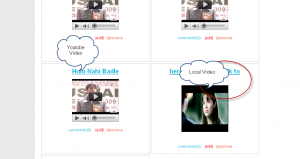 Audio gallery Page with mediaelement player:-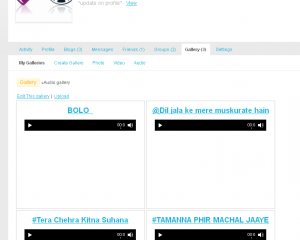 Single Uploaded Video page:-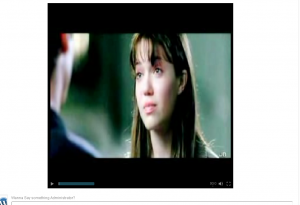 Single Page view for Youtube video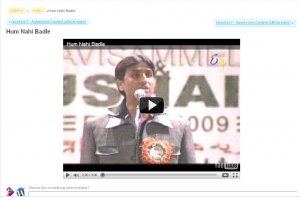 Vimeo Video Single Page:-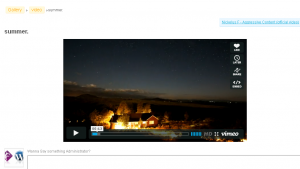 Activity Publishing:-
Multiphoto publishing to activity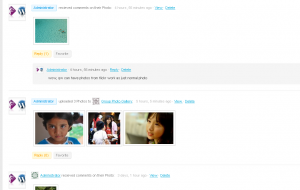 Media can be published in group to activity as shown above or just published as individual media depending on your gallery settings.
Multiple Audio In activity:-

Profile Activity for gallery filtered under activity sub tab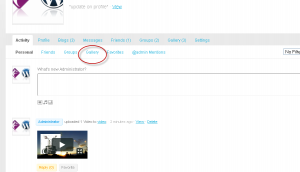 A user can see the gallery activity under the "gallery" sub tab of his/her profile activity page.
Sitewide Activity Page:-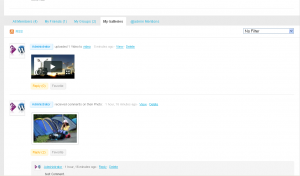 A logged in user will have access to his/her gallery activity under the sitewide activity page.
Upload from Activity:-

If you have enabled the upload from activity page, a video/audio/photo can be directly uploaded from activity stream page and shared.
Gallery Directory page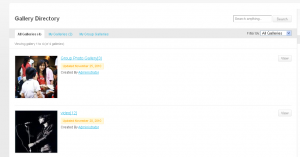 Gallery directory page lists all the public galleries. You can filter it by media type(photo/audio/video) and also perform search there. The directory page also lists the personal galleries for a logged in user as wel as the Group Galleries of the user.
Group Gallery:-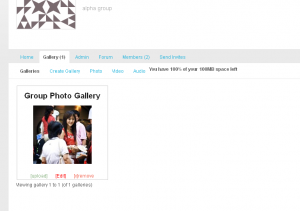 Group galleries work just as normal galleries. Administrator/moderator can create the gallery and all the members can upload to gallery. The visibility of gallery/media will depend on the group settings as wel as gallery and media privacy settings.
Managing Gallery:-
Editing media/gallery:-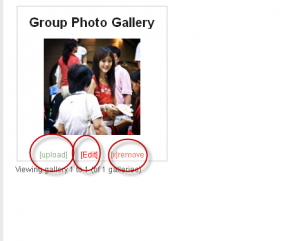 If you are logged in and you are the admin of gallery, you will see the edit/delete/upload link on the gallery listing page. Also, an edit link and upload link is present inside individual gallery page as shown below.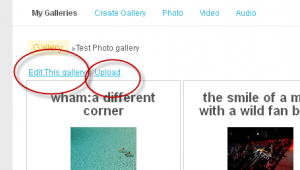 Once you click the link, you will be taken to the appropriate manage/upload page as shown below.
Single Gallery Manage Page:-
Create Gallery:-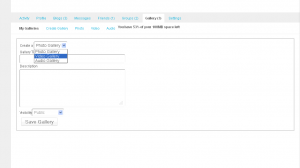 Bulk Medi Edit page:-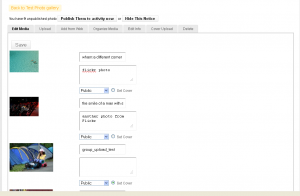 Clicking on the edit media tab in manage gallery page  will list all the media and show you the form to  edit title, description, privacy. You can also set one of the media as gallery cover if you are editing a photo gallery.
Single gallery Upload Initial Page:-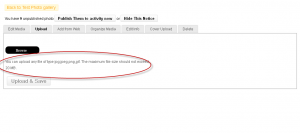 Clicking on the upload tab will show you a page like above. Site admin can change the upload button by replacing an image in the gallery template. It allows you to upload multiple file at once. To assist user, It also displays the allowed file type as wel as the maximum upload size allowed for individual files.
Upload In progress:-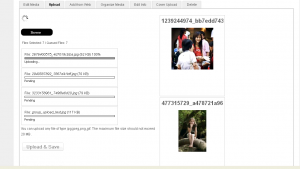 Once the upload starts, the successfully uploaded media is shown in the rightbox site while uploader keeps uploading other media.
Add from Web(In example is flickr)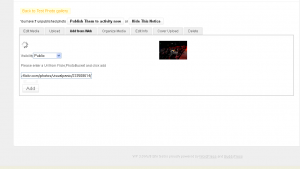 Click on add from web, will show an input box. Just copy and paste the url of an oembed supporting webpage and gallery will grab the image/video from that page. In the above example, I have added a flickr photo to gallery.
Drag and drop reorder media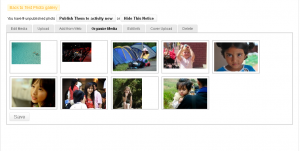 Clicking on organize media tab will show you the list of media items in grid. They are draggable. Drag and drop them to reorder the media inside the gallery. Is not that easy ?
Edit gallery Info/privacy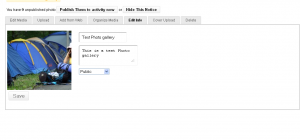 You can change gallery description, title and privacy from the edit info tab as shown above.
Cover Upload for Gallery:-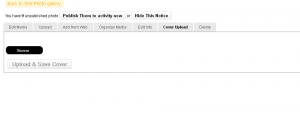 In case of audio and Video gallery, I am sure you would want to upload a cover image. So the tab, cover upload gives you that functionality to change the cover image for the gallery.
Delete Gallery:-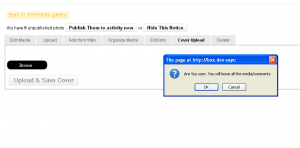 A gallery can be deleted from the magae gallery page as well as from the gallery listing page. deleting a gallery will delete all the media inside the gallery and remove any activity items related to that gallery/media.
Publish Uploaded media Items to Activity:-

If the gallery settings is not set to auto publish the media items to activity, You can publish them from the gallery manage page as shown above. You can opt to either publish them or just hide the notice.
Inline editing medi from Single Gallery page:-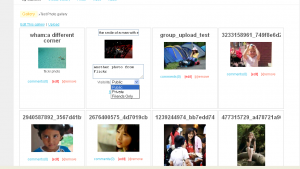 You saw above, we had a Bulk edit page for media but to make it easier, you can inline edit the media title,description and privacy from the media listing page of  individual page.
Widgets:-
There are two widgets which comes with Bp Gallery, you can have any number of instance of them. I will show there features below.
Sitewide media Widgets:-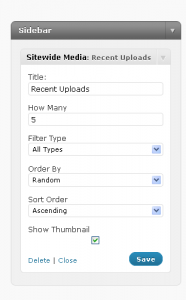 The sitewiode media widget allows you to do many things as shown below
List recently uploaded media(It will list a mix of audio/video/photo)
List media By Type(Only photos, only audios,only videos)
Order the media list by title, upload date, or randomly
You can choose to list ascending(In case of date, recently uploaded first, or least recent first), In case of title( alphabetically ordering or reverse alphabetically, I am not sure if that is the right word to use here), In case of random media, this has no effect.
So, you can combine all of the above to have upto 18 combinations.  It's all for you to play with.
Sitewide Gallery Widget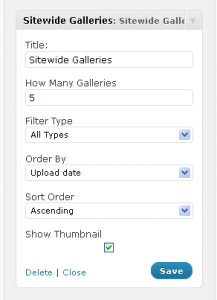 The sitewide gallery widget allows you to list recently updated galleries. You can filter gallery by type, sort them by update date or title or randomly and order by ascending/descending.
here is a screenshot for sitewide media with Random media and mixed content settinsg(all type of media is listed, including youtube, vimeo, video, photo, audio).

Lightbox everywhere :-
To have this, you will need Pretty Gallery plugin, available from our plugins section.
For Photos, you can enable lightbox from activity, directory, sitewide  gallery, profile gallery, group gallery and so on. here are a few examples:-
Lightbox in activity:-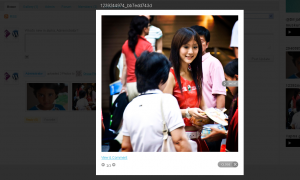 Lightbox On single gallery page:-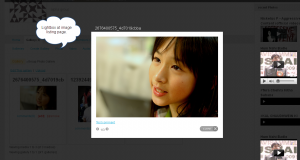 Someone said, a picture says a thousand words, I am sure the above picture should have said a couple thousand words about gallery. Now, It's your turn to test it and let me know what you think. What Improvements and what more features?
If you want to extend gallery, please let me know the purpose and I will help and do not forget, On the gallery download page, you can check for other addons which support gallery.
Download
Download Link:- https://buddydev.com/plugins/bp-gallery/
Installation & Upgrade: https://buddydev.com/plugins/bp-gallery/installation/
Download Pretty Gallery:- https://buddydev.com/plugins/pretty-gallery/
Documentation: https://buddydev.com/plugins/bp-gallery/documentation [It is incomplete, will have full documentation by end of the first week of December]
Demo: http://plugins.bpdemos.com/bp-gallery
Got a bug, please report in https://buddydev.com/forums
PS:- The flowplayer template is coming today and so will be a template for suffusion theme, The gallery template for suffusion theme is available now on gallery download page.I will put template for Cosmic Buddy later today. I will be adding a couple more templates and then will work on rating/face tagging plugin. Please let me know in comments which of these two plugins you want first. The related Plugins for gallery are listed on the gallery download page. Please check that page for other addons like watermarking plugin etc.
Happy Social Networking.