The BuddyPress panel allows you to control all settings specific to BuddyPress.
This panel is divide into eight sections as shown below.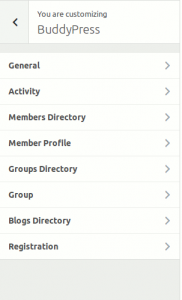 General:-
You can enable where you want to use the WordPress Page title for directory. BuddyPress 2.7 has similar enhancement. It works on older version too.
Excerpt Length:- The maximum excerpt length is the maximum length of text in the directory(displaying member updates/blog posts etc in the directory)
Avatar Size:- You can change the avatar size used for the item lists(in directory and other places)
List Display type:- You can use either masonry grid, equal height cards or standard layout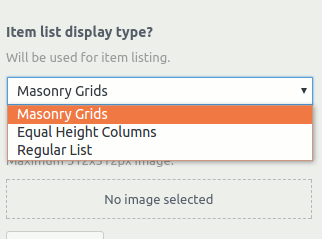 default User Avatar & Cover:-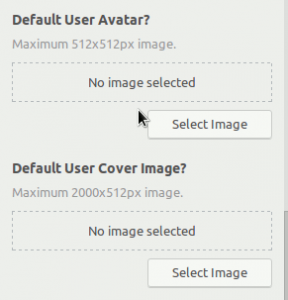 you can upload the default image for user avatar/cover there.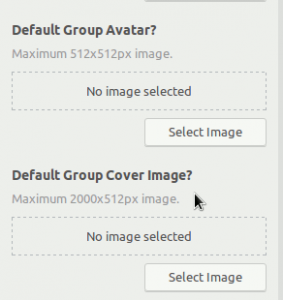 You can also upload the default group avatar/ group cover.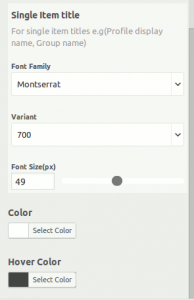 The single item title settings allows you to change the style for the user display name/group name on User profile/Group page.
Activity:-
In this section you can control the following things:-
Layout of Activity directory page
Whether to display activity with the arrow or not?
Whether to auto load activity on scrolling?
How many activities per page?
Members Directory:-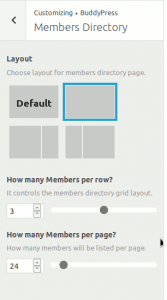 In this section you can control the layout of the member directory page. Also, the number of users to display per page and how many users per row if using masonry grid.
Member Profile:-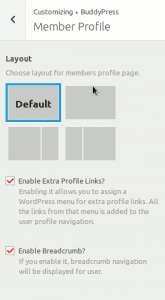 Here you can select the layout for member profile page. you can also enable extra menu in the user profile menu,  It also allows you to disable breadcrumb on the member profile page if needed.
Group Directory:-

This section allows you to control:-
Layout of the Groups directory
Layout of the Create Group page
How many groups to display per page in the directory
How many groups per row if the masonry layout is used.
Group:-
This section allows you to control the following:-
Single Group Layout
Whether to enable extra menu(You can add WordPress menu links)
Whether to enable breadcrumb?
Blogs Directory:- Only available on Multisite

The blogs directory section allows you to control:-
Layout of the Blogs directory
Layout of the create blog page
How many blogs to list per page
How many blogs to list per row
Registration:-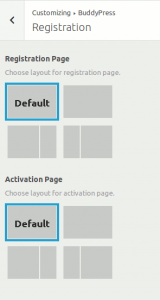 This section allows you to control:-
Layout of the Registration page
Layout of the Activation Page
Note:- With Community Builder, if you add any content to the registration page (In WordPress post editor), That will be visible on the registration page.