The Menu panel is the default WordPress menu panel. here you can create and assign menus to various menu locations registered by the Community Builder theme.
All the menu locations are optional and if you don't assign a menu, no menu will be displayed. Community builders can provide from 3-5 menu locations depending on your preference.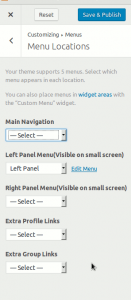 The Menu locations are:-
Main navigation:- The top main menu visible in the header.
Left Panel menu:- The Menu available in the left off-canvas panel.
Right Panel menu:- The menu available in the right off-canvas panel.
Extra profile links:- Will appear in the user profile if you have it enabled in the BuddyPress->Members Profile section.
Extra group links:- Will appear in the single group navigation if enabled from BuddyPress->group section.